007 Dossier: A Brief History of James Bond
"...the face a taciturn mask; ironical, brutal and cold."
With these words, Ian Fleming describes the relaxed sleeping face of his secret agent once the "warmth of the eyes" is extinguished. Although always judged to be "very handsome" by women, Bond is no perfectly groomed pretty boy. He has a fine, three inch long, vertical scar down his right cheek, giving him a faintly "piratical" look, and a perpetual "comma of black hair" hanging over his right eyebrow. (In the immediate post-war era, a facial scar was not an unusual feature) Worst of all, he has a "rather cruel" mouth.

In Casino Royale, Fleming wrote that James Bond looked like a young Hoagy Carmichael, but with something "cold and ruthless" about him. On the lower left is perhaps the best photograph of American piano man Hoagland "Hoagy" Carmichael to convey what he intended. As evidence of this fact I offer the middle picture, which is a rendering of James Bond by renowned graphic artist Mike Grell. I'm intrigued by the resemblance to Carmichael in the photo on the right of actor Daniel Craig from the recent Sony Pictures film adaptation of Casino Royale. Granted, his is not the "terribly handsome" image of James Bond (then again, is Hoagy?), but I really love this shot; when have we ever seen a Bond on film with lacerations? He's also wearing a dark blue cotton knit shirt - favorite attire for Bond in the novels.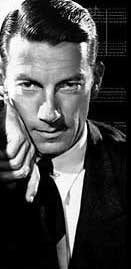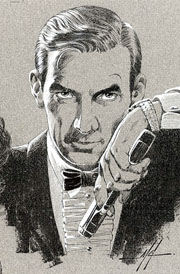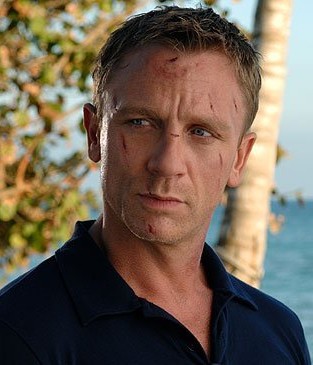 Vital Statistics
| | |
| --- | --- |
| Height: | 1.83 m (6 ft) |
| Weight: | 76 kg (168 lb) |
| Hair: | Black (parted on the left) |
| Eyes: | Blue-grey |
| Distinguishing Marks: | Fine, vertical scar on right cheek; scar on right wrist |
| Date of Birth: | ~1918 (precise date unknown) |
James Bond is the only child of Andrew Bond of Glencoe, Scotland, a foreign representative of the Vickers Armaments firm, and Monique Delacroix Bond of Canton de Vaud, Confoederatio Helvetica (better known as Switzerland). Bond's definite year of birth (let alone the date) is a matter of some confusion. In Moonraker (set in 1954 at the latest) it is asserted that he has only 8 years remaining before mandatory retirement at age 45, making him about 36 at the time, thus a 1918 year of birth. Little is known of his childhood, save that he spent all of it living abroad prior to the death of his parents in a climbing accident when he was 11 in the Aiguilles Rouges (Red Needles), a massif opposite Mont Blanc above Chamonix, France. This oblique reference to Chamonix and Mont Blanc is perhaps a nod to the Shelleys by Fleming. From childhood young James acquired a fluency in both French and German, which in combination with his half-Scottish, half-Swiss ancestry and Continental upbringing make him ideally suited to foreign affairs and less blatently British than the cinematic persona.
On the death of his parents, James comes under the guardianship of his maiden aunt, Charmian Bond, in the village of Pett Bottom near Canterbury, who probably instills in him the fondness that he later feels toward his elderly Scottish housekeeper, May. At the age of 12 he enters Eton College, but only remains for a year due to a scandal with one of the dormitory maids (early evidence of his influence with women). His aunt then sends him to Fettes, his father's public school and a typically Scottish conservative environment (doubtless responsible for most of his curiously old-fashioned sensibilities). At Fettes, young James excels in athletics, fighting twice for the school as a lightweight and founding the "first serious Judo class at a British public school". Matriculating early at the age of 17, he undertakes a brief period of travel abroad. This would have been about 1935. During this period he learns to ski and climb (mountaineering) like a professional from a Swiss man named Hannes Oberhauser, who is for a while "something of a father" to the teenaged Bond.
In 1938, with the aid of an old Vickers colleague of his father, he enters the Secret Service. M's obituary for James Bond at the close of You Only Live Twice obfuscates this part of his history, suggesting that Bond is not part of the Secret Service until 1941 and that he claims to be 19 to meet the age standard. Why M does so is unclear, but may relate to obfuscation by Fleming of his own history. Previous novels plainly establish that Bond works for the Secret Service prior to the outbreak of World War II and beginning in 1938. In his early career with the Secret Service he is a clandestine courier into Nazi Germany, Soviet Russia, and fascist Italy and Spain, the latter two sometimes by crossing high mountain passes. There is a reference to traversing Siberia by rail before the war. He spends two months in surveillance of a group of Roumanians at Monte Carlo.
With the declaration of war in September 1939, James Bond is "accorded" the rank of Lieutenant in the Special Branch of the Royal Navy Volunteer Reserve (RNVR) "to serve the confidential nature of his duties". In other words, he and other Secret Service members were given plausible membership within active military organizations to conceal their clandestine activities. In reality, Section D of the Secret Service became the Special Operations Executive (SOE) and it is to this group that Bond would probably have belonged. By war's end, he rises to the rank of Commander (as did Fleming, in a similar capacity). Little is revealed of his wartime record in the stories. We know that he spent time in New York, performing an assassination of a Japanese cipher clerk with a rifle from 300 yards away in a high rise building - one of two directed kills that will result in his being assigned to the select 00 Department (the other being the liquidation of a Norwegian double agent in Stockholm). There is a passing reference to operating in neutral Stockholm (Sweden) and Lisbon (Portugal). Presumably, he spent some time with the French Resistance given his fluency, familiarity with France and association with Rene Mathis, but definitely Bond worked for a time behind enemy lines. Although we know he was in Berlin at some point in 1945, he is in Hong Kong at the end of the war later that year, following the surrender of Germany and the cessation of conflict in Europe despite the prevalence of enemy underground agents in the aftermath and concerns about Soviet influence, suggesting that Bond's talents were always to be applied at the most stressing points. Shortly after the war, Bond receives a long assignment in Jamaica, which (though never illuminated in its particulars like the rest of his wartime activities) creates a lasting love for the island colony and the Caribbean generally.
After the war, Admiral Messervy is appointed the head of the Secret Service and accepts Bond's application to remain, a move that parallels the reabsorbtion of the SOE by the Secret Service in 1946. Apparently, Bond did not know or work for Admiral Messervy during the war and the Admiral's wartime career is never elucidated. It is not clear exactly when Commander Bond becomes a 00 agent, but by 1951 he is a Principal Officer in the civil service for the Ministry of Defence and the senior 00 in the small section of three 00 operatives. In 1954, he becomes a Companion of St Michael and St George (CMG) in recognition of his service to the Realm and the Crown in the events of the novel Moonraker. In keeping with Secret Service practice, this fact is not publicised until his presumed death years later. At the conclusion of The Man with the Golden Gun, near his mandatory retirement age as a 00 agent, he is offered the title of Knight Commander (KCMG), but thinks he will decline because the idea of being Sir James Bond is incompatible with his desire to eshew the public life and his own self-image of being and forever remaining a "Scottish peasant".
He has at the time of Moonraker three married lovers, evidently preferring relationships that cannot progress, make small demands of him and will inevitably end. Later this seems to be much less satisfying, and we find Bond ruefully imagining the progress of a relationship, as if he has too often experienced this miserable arc of failed love. Bond is married only briefly, on 1 January 1962, to Contessa Teresa di Vicenza, daughter of the capo of the Union Corse (i.e. the Corsican Mafia), Marc-Ange Draco. The relationship ended tragically, without issue. He has about half a dozen "real friends" and no acquaintances, suggestive of an introverted personality that values intimacy over casual familiarity.
In character, James Bond differs from the cinematic persona. He is far more openly emotional than any of the film interpretations, both in terms of friendly mannerisms and personal vulnerability, as evidenced by his visceral reaction to certain situations (e.g., blood everywhere and pulverized human tissue hanging like rags in the trees after a bomb blast) and profound compassion for others as well as his affection for old firends like Felix Leiter. He is not so cynical that he thinks and feels like a machine, even though there is a clear hardening of character over the course of the novels. Far from an aesthetic snob or Epicurean dillatante, he is almost Stoic in most respects. Rather than waste his winnings from Goldfinger on indulgence, he donates $10,000 to the White Cross, the SIS charity. He is a bit of a Romantic, mischievous and a schoolboy menace at heart. On the other hand, he has an astounding capacity for ruthless suppression of his own fears and suffering through sheer will. His courage also is something almost elemental, Fleming noting that it was "not in his makeup to worry" about danger and extricating himself from a situation. In fact, pressure and danger are often relaxing to him. He can be cocky in the face of horrific death. Bond finds it difficult to be anything other than himself; even when playing a role to infiltrate an organization he exudes a demeanor that is plainly too true spirited to be a good thing in a (supposed) henchman; the villains innately distrust him. In short, he is the classic British adventure hero in the tradition of Doyle, Rohmer, Oppenheimer, Haggard, etc.
Personal Habits: Hobbies and Routine
Bond's private passions are his Bentley (discussed hereafter), golf and gambling. He spends most of his income on his car, once "dabbled on the fringe" of the racing world and has the skill of a "Rally class" driver. He also plays golf for high stakes on the weekends at some exclusive clubs, which is an expensive hobby, and plays well enough to manage a nine handicap on some tough courses. He once mentions competing for the Dewar Trophy, a high-power rifle target shooting contest, and also shooting at Bisley with the newly adopted FN-FAL automatic rifle. In the evenings he usually plays cards or dines out at Crockford's and other fine restaurants. On a dozen or so occasions, he has accompanied Admiral Messervy as his guest to the very exclusive gentlemen's dinner club, Blades. He makes an annual pilgrimage on holiday to Royale-les-Eaux to the casino. His work schedule is typically from 10 AM to 6 PM, with luncheon in the canteen.
He resides in a small flat on a plane tree-lined lane off King's Road in Chelsea with an elderly Scottish housekeeper named May. Though not expressly located within the novels, the residence is believed to lie on Royal Avenue, Markham Street or Wellington Square. The King's Road in Chelsea was then (and still is) a very fashionable locale for shopping and dining. Bond's flat is a converted Regency house having a book-lined sitting room with an Empire desk by the broad bay window and a smallish master bedroom with white and gold Cole wallpaper, deep red curtains and a dark blue counterpane on the bed. By the late 1950s, he has a direct phone line to SIS headquarters in his bedroom. Presumably there is a room occupied by May and one novel makes reference to a spare room as well. Notwithstanding the presence of his housekeeper, Bond will not tolerate being cossetted and dislikes feminine surroundings.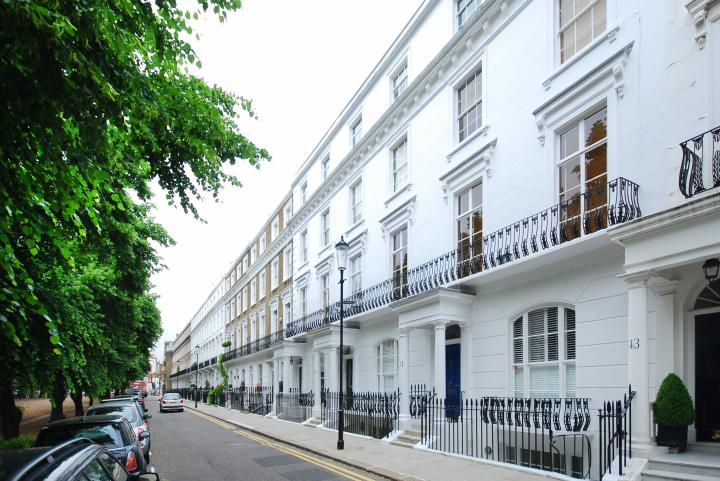 Row of Regency Townhouses in Royal Avenue on the King's Road, Chelsea
We know from his reading habits, usually books taken on travel to pass the time while in flight or on trains, that he enjoys the espionage thrillers of Graham Greene, Eric Ambler, E. Phillips Oppenheim and Somerset Maugham as well as the hard boiled private investigator tales of Raymond Chandler. This is both an homage to Fleming's own favorites and a clue to Bond's rather Romantic nature. Perhaps more surprising is his familiarity with the darker milieu of Poe, LeFanu, Stoker and Bierce.
Personal Habits: Fashion & Cuisine
Reading the books one gets the definite impression that James Bond is a lover of creature comforts and a person who takes great pleasure in the details of simple things, particularly cuisine. However, he is a civil servant, not a landed gentleman (although he inherited a modest income of about £1000 tax free and occasionally wins some money at gambling). He earns about £1500 a year and lives rather modestly when not on assignment. It is these moments of government-subsidized luxury that he relishes, partly because they are so infrequent (only two or three times a year).
Rarely is Bond depicted wearing traditional evening dress (what we call a tuxedo in America). When he does, its a single-breasted dinner jacket with a thin black satin tie and a heavy silk shirt. His typical business attire is a dark blue, tropical weight, worsted wool suit, again with a heavy silk shirt but with a black knit tie. His sporting and leisure attire is either a black and white hound's tooth suit or a dark blue, short-sleeved knit shirt made of Sea Island long staple cotton. We read of the "old", "battered" and "yellowing" hound's tooth often enough to be convinced that Bond is one of those men who acquire a fondness for certain articles of clothing that approaches something of a bond of love and that he doesn't possess a deep wardrobe. Additionally, the hound's tooth suit may be another nod by Fleming to one of his favorites, in this case Conan Doyle (of course). He wears sandals when he can and hates laces on shoes. Bond's sleepwear is a long silk pyjama tunic, a habit he picked up in Hong Kong.
Personal accoutrements include a flat gun-metal cigarette box in a hip pocket, containing 50 cigarettes specially made for him by Morlands of Grosvenor St. from a Balkan-Turkish blend and with three gold bands, and a black oxidized Ronson lighter. Although he occasionally smokes Chesterfields, Caporals, Lucky Strikes and Diplomates, he hates Virginia tobacco.
Bond's favorite meal is breakfast, and he typically will have scrambled eggs with bacon and toast, a carafe of orange juice and coffee (he despises tea - calling it "mud" and rants that its partly responsible for the downfall of the Empire). Interspersed throughout the novels are variations on this breakfast and dinners described in succulent detail. The most memorable to me, though by no means the most elaborate, is the feast of stone crab, toast and champagne that he shares with Mr. DuPont in Goldfinger. I've made that meal and its excellent. A classic example is from Casino Royale: "I myself will accompany Mademoiselle with the caviar, but then I would like a very small tournedos, underdone, with sauce Bearnaise and a couer d'artichaut. While Mademoiselle is enjoying the strawberries I will have half an avocado pear with a little French dressing."
Bond is famous for ordering a dry Vodka martini, shaken until very cold, with a twist of lemon zest, but he also drinks double gin and tonics with squeezed lime, vodka and tonic, a lot of Bourbon and various other mixed drinks. In the films, Bond is a connoissieur of Moët & Chandon Dom Perignon champagne, but the literary Bond prefers Taittinger Blanc de blancs.
Automobiles
James Bond's intrinsic nostalgia is evidenced in his choice of automobiles. At the age of 15 or so in 1933, he acquires a 1930 Bentley convertible touring coupe "almost new" with a 4.5 liter engine and the Amherst-Villiers supercharger (see the photo below) - the famous Blower Bentley (only about 55 were ever built). It is battleship grey with blue leather upholstery. During the war he has it kept in storage and it is afterward maintained "with jealous care" by a former Bentley mechanic at a local garage. Producing 175 hp (Fleming incorrectly gives it a mere 25 hp, true of the base Roll-Royce engine), it can manage better than 100 mph. By the time of its demise in Moonraker, this car is a veritable antique, but evocative of the early days of British racing ingenuity and innovation.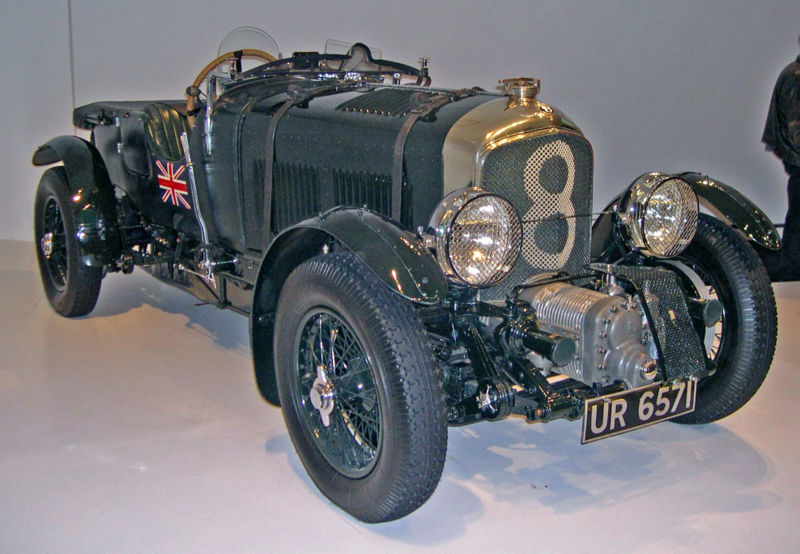 1929 Bentley 4.5 l Touring Coupe with Amherst-Villiers Supercharger
With about £5000 of his gambling windfall, Bond purchases a new 1953 Bentley Mk VI convertible with an open touring body, also in battleship grey with dark blue leather. We glean from the test driver's suggestion that it will be tuned to make "well over the hundred" mark. Presumably he drives this car for the next several years, but it is not mentioned again.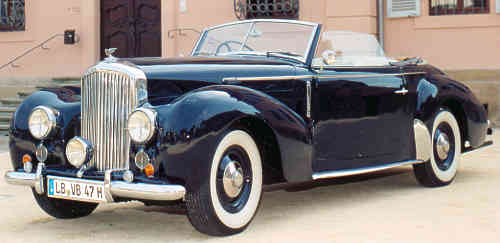 Bentley 4.5 l Mk VI Coupe
Finally, in 1961, we learn that he is driving a very personalized, custom rebuilt Bentley Mk VI R-Type Continental. In addition to having an upgraded 4.9 liter engine and an Arnott supercharger controlled by a magnetic clutch, it is a two-seater convertible with completely custom coachwork by the redoubtable firm Mulliners. Gracelessly nicknamed the "Locomotive", "Bond loved her more than all the women at present in his life rolled, if that were feasible, together". The photo below is of a custom Bentley Continental with coachwork by Henri Chapron similar in concept to Bond's car.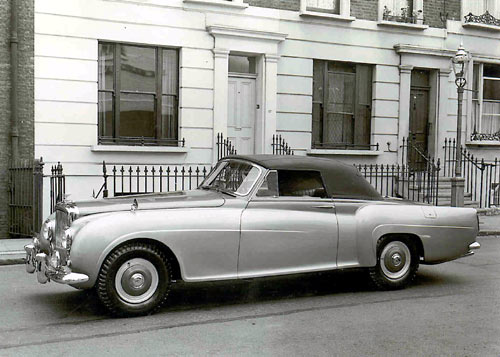 Delaisse Design Chapron Custom Bentley R-Type Continental
Guns & Gadgets
The guns used by James Bond initially are:
.25 caliber Beretta automatic (a Model 1919 variant, probably Model 418) with a skeleton grip, carried in a soft chamois leather shoulder holster (this pistol is fitted for a silencer)
.38 S&W Special caliber Colt Detective Special revolver with the foresight filed down
.38 S&W Special caliber Colt Police Positive revolver with a "sawn" barrel (ie, snub-nosed) as an alternative to the Detective Special
.45 Colt caliber "long barreled" Colt revolver for backup, kept in a hidden holster or trick compartment in his car
These guns are perfect for the period and the work. Though Fleming was criticized for giving Bond a .25 caliber, the most commonly used pistol caliber by assassins and clandestine operatives is the .22 Long Rifle rimfire, which is comparable to the .25 (6.35 mm) Browning automatic cartridge. Conspicuously, he never carries a Webley. I have concluded that this insistence on always carrying foreign manufactured firearms was part of the plausible deniability of his cover. Incidentally, although Fleming identifies the long barreled .45 Colt as an Army Special on at least one occasion, that particular model was never so chambered; in all likelihood what he intended to convey was the Colt New Service revolver.
.25 caliber Beretta Model 1919 (418)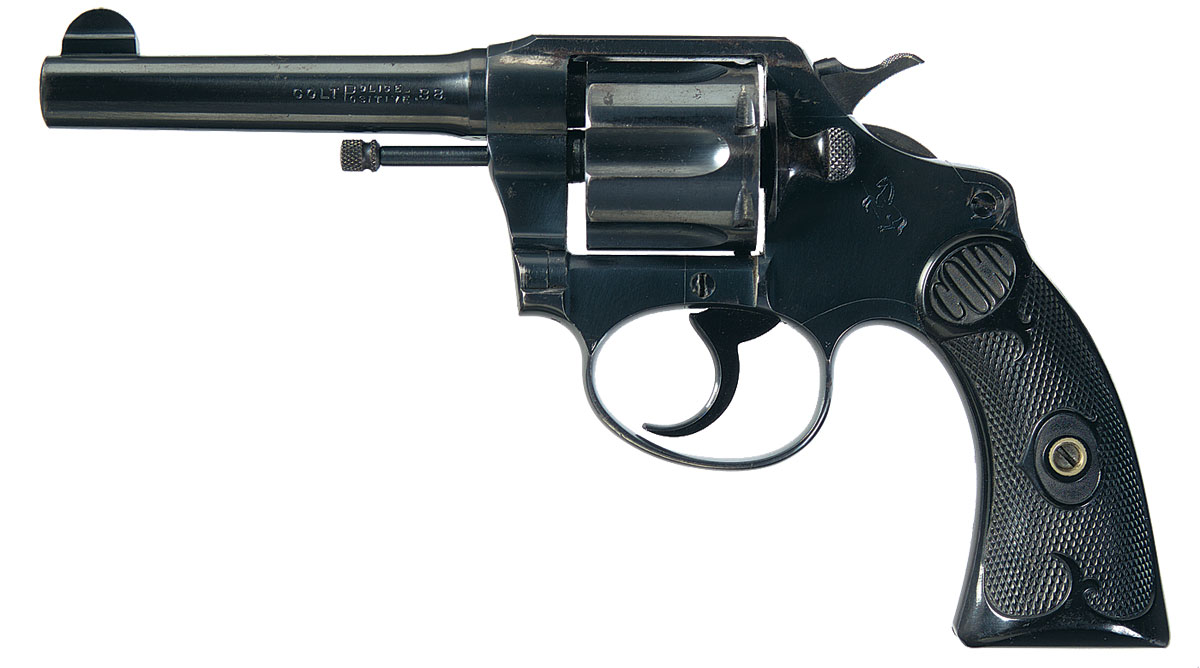 .38 caliber Colt Police Positive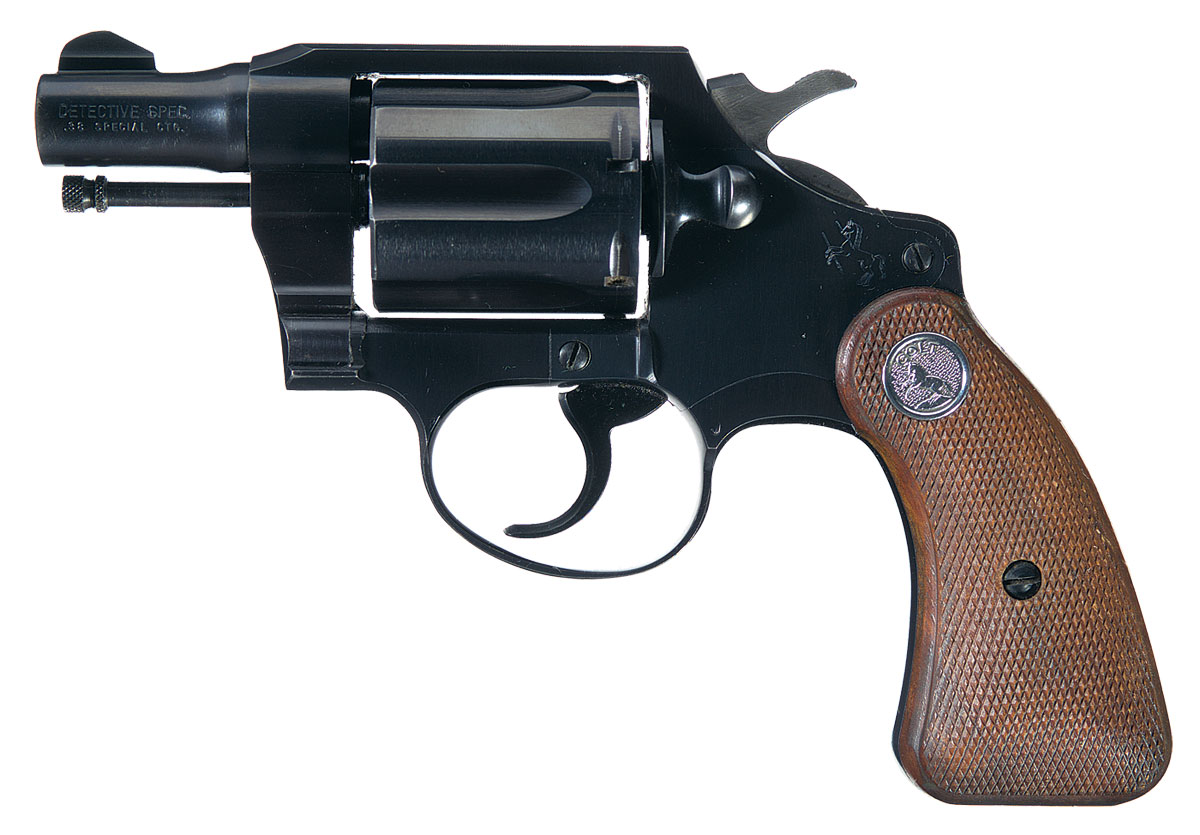 .38 caliber Colt Detective Special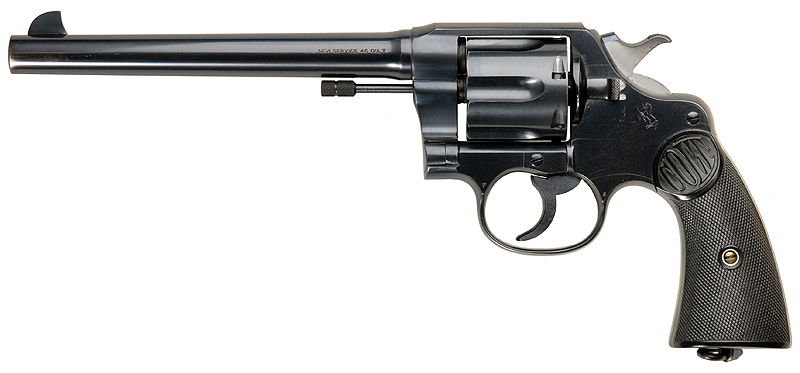 .45 caliber Colt New Service
In the novel Dr. No, M compels 007 to dispense with the Beretta that he has used for 15 years and adopt a new pistol. The Armourer in the novel, a Major Boothroyd, was based on a real Geoffrey Boothroyd, who was an employee with the Imperial Chemical Industries ammunition firm and a gun writer on the subject of British sporting arms, principally shotguns. Though admitting to no personal experience in gunfighting, military arms or clandestine operations, Boothroyd wrote to Fleming chastising him for his choice of firearms in the books. Now, either Boothroyd was not such an expert on the subject of handguns or he badly confused Fleming, or both. Boothroyd decried the Beretta as a "lady's gun", failing to appreciate that its small size and reliability were its virtues - caliber being relatively unimportant. The Armourer's recommendation is for a 7.65 mm Walther PPK, to be carried in a Berns-Martin Triple Draw holster inside the waistband. The PPK is a better pistol undeniably and thereafter Bond's signature weapon, however the contention that the 7.65 mm (.32 caliber) PPK is much more powerful than the Beretta ("a real manstopper") is plainly absurd; they are insignificantly distinguishable in that respect. Were power the object, at the very least it ought to have been a 9 mm Kurz (.380 caliber) model of PPK, rather than a .32 caliber (not that there is much difference). Secondly, the Berns-Martin holster is strictly for revolvers, although that may have been Fleming's error since Boothroyd originally campaigned for Bond to abandon automatic pistols altogether in favor of revolvers. Boothroyd also avers that the PPK has a "light trigger pull", which may be evidence that he had never handled one - it has an extremely stiff trigger pull, though not bad if cocked first.
Boothroyd argued that if Bond had to use a light weapon he would be better off with a .22 rimfire because the soft lead bullet would cause more shock. Anyone familiar with my terminal ballistics pages can tell you what I think of that statement. Additionally, what made the .25 Browning cartridge so ubiquitous in early 20th century concealable pistols is its utter reliability. You would not have that with a lead nosed rimfire, and there have been very few compact .22 rimfire automatic pistols that were not technical failures.
Not content with leaving well enough alone, as a backup pistol the fictional Boothroyd recommends replacing the potent long-barreled .45 Colt Army Special with the diminutive .38 caliber Smith & Wesson Centennial Airweight revolver. This is where something got seriously garbled in translation. The 5-shot Airweight would make an adequate carry gun as an alternative to the PPK, but its no better than the 6-shot Colts previously used by Bond and has a vicious recoil, owing to its alloy frame and awkward grip. (I know, I've shot one. It was the worst recoil of any pistol that I have fired other than my .45-70 handcannon.) Bond informs M at the conclusion of Dr. No that the Airweight was ineffective (which may be Fleming's subtle commentary on self-styled gun experts). In fairness, what the living Boothroyd recommended as a long range backup weapon was a Smith & Wesson .357 Magnum, which is a good choice, although Boothroyd's estimate of an effective range of 300 yards is specious. Ironically (since he's so keen on Smith & Wesson), Boothroyd missed the obvious opportunity to suggest the perfect heavy backup weapon for Bond in 1956: the newly introduced Smith & Wesson Model 29 in .44 Magnum caliber (see below). Finally (and this clinches my conviction that he was no expert) Boothroyd asserts that the Japanese Nambu Type 14 is the best pistol in the world, followed by the Tokarev. Accurate the Type 14 may be, but if you've ever seen one of these ungainly monstrosities you'll immediately comprehend my disdain; similarly, the Tokarev is a large frame service pistol and unsuitable for clandestine work.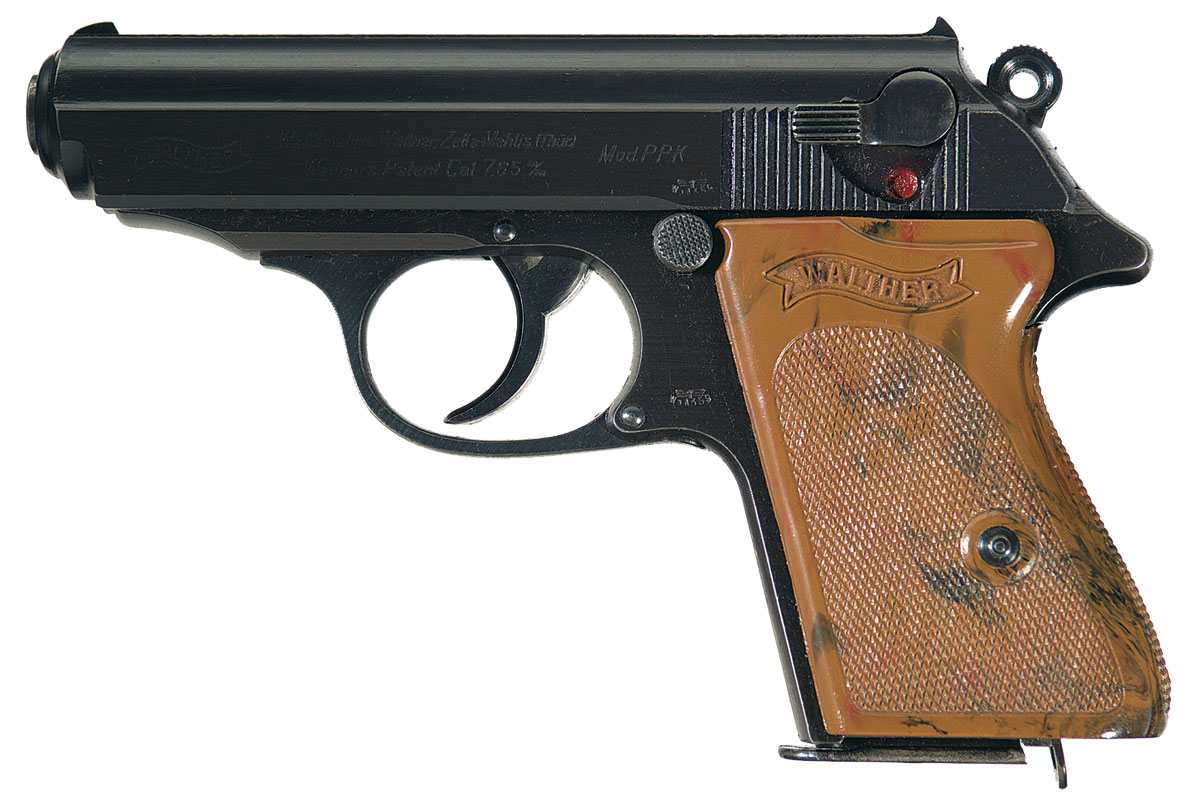 7.65 mm (.32 caliber) Walther PPK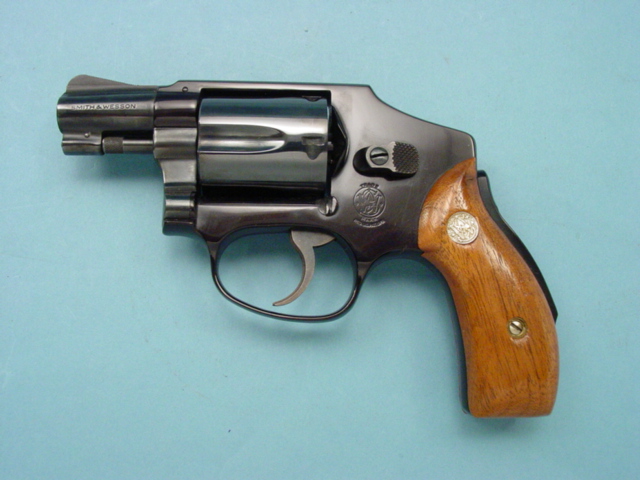 .38 caliber Smith & Wesson Centennial Airweight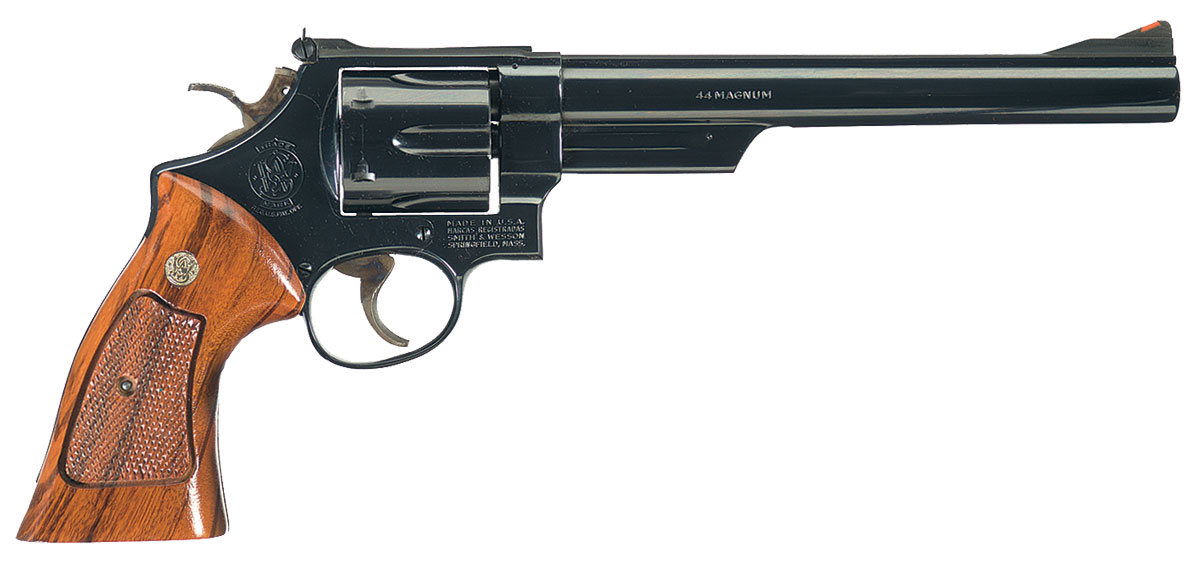 Missed Opportunity? - .44 Magnum caliber Smith & Wesson Model 29
In the Fleming stories Q is not a person, its a branch of the Secret Service headquarters. Q Branch provides all of the specialized equipment used by Secret Service agents on assignment, but also arranges travel accommodations and medical care post-assignment, when required (as is often the case). Some of the more exotic equipment is actually developed by the Technical Section and only provided by Q Branch. Unlike the improbable (or impossible) gadgetry of the films, the spy-technology in Fleming's stories is very practical and often taken from actual equipment that was used by the Special Operations Executive (SOE) and the Office of Strategic Services (OSS) in World War II and MI6 and the CIA in the Cold War era. In From Russia, with Love Bond is provided a modified Swaine & Adeney attache case that hides 50 rounds of .25 caliber ammunition, 50 gold sovereigns and two Wilkinson throwing knives. It also comes with a cyanide pill in the grip but Bond immediately flushes this. Q provides a can of shave cream that hides the silencer for his Beretta. In Goldfinger for his pursuit of the titular villain, Bond draws an automobile from the motor pool, an Aston Martin DB Mk III that has some special modifications: "switches to alter the type and colour of Bond's front and rear lights if he was following or being followed at night, reinforced steel bumpers, fore and aft, in case he needed to ram, a long-barrelled Colt .45 in a trick compartment under the driver's seat, a radio pick-up tuned to receive an apparatus called the Homer, and plenty of concealed space that would fox most Customs men". No ejection seat, armor shields, oil slick and smoke projectors or machine guns...
Of Her Majesty's Secret Service
Ian Fleming provides a cogent and realistic portrayal of Cold War clandestine operations. Moreover, he predicts the yet to be nascent multi-lateral world of clandestine and covert ops. Granted, as the series develops the opponents become larger than life, but where he strays into the absurd it is deliberate, invariably a bizarrerie of character, what I term the Fleming Defect - each of his villains has some perversity of form or psyche that shapes their identity. In terms of operational methods and means, the books are prosaic (at least by the standards of Cold War espionage). The British Secret Service operates "off the reservation", meaning that it is truly clandestine. Its Station Chiefs for each country or region of interest are usually covered by a plausible commercial enterprise that is legitimate, rather than operating from out of the embassy or consulate. When on an operation, Bond generally avoids the consulates and official residences (an exception being Dr. No, which begins as an ostensible routine personnel inquiry). In fact, the London office of the Secret Service is in an office building portraying itself as the home of Radio Tests, Ltd., Universal Export Co., Delaney Bros. (1940), Ltd. and The Omnium Corporation, and retains a Miss E. Twining, OBE, to answer all enquiries for any of the bogus enterprises allegedly habituated within.
Fleming never refers to the Secret Service as Directorate of Military Intelligence - Section 6 or MI6, which was its identifier in World War II and still the popular convention. Bound by the Official Secrets Act, he may have been unable to acknowledge that name (initially he does a similar thing with the CIA, calling it the Combined Intelligence Agency; correcting this in Live and Let Die). Moreover, he places the headquarters of the Secret Service overlooking Regent's Park, when in fact it resided at that time on St. James Street. Nevertheless, his depiction of the organization and activities must have been fairly accurate in broad terms. He certainly reveals an astounding degree of detail concerning contemporary Soviet intelligence agencies and the actual heads of these organizations in From Russia, with Love, which makes one wonder whether his post-war contacts with the Ministry of Defence persisted. After all, and this is briefly mentioned in From Russia, with Love, the British Secret Service had very recently taken a severe blow in the defections of Burgess and MacLean and the (rightly) assumed treason of Philby. Was Fleming officially encouraged to proffer a heroic portrayal of the Secret Service?
The head of the British Secret Service is known only as M, his true identity a closely held secret. In fact, M is Admiral Sir Miles Messervy, once in line to be Fifth Sea Lord of the Admiralty, but who eschewed the glories of rank for the rigors of unacknowledged dutiful service. Evidently, the actual head of the British Secret Service is traditionally known as C, after the style of Captain Sir George Mansfield Smith-Cumming, the first and very influential head of the organization who signed his office correspondence "C". Messervy, then, is a type of the real Smith-Cumming. Although I adore Bernard Lee and enjoy his portrayal of M in the early films, his relationship to 007 is often in the manner of a weary schoolmaster for an errant and precocious miscreant. Fleming's M does not relate in this way to his best agent. Indubitably, he is a classic curmudgeon, prone to moods like the sea, invariably gruff when personal matters arise, shackled by quaint Victorian sensibilities (he disapproves of Bond's "womanizing" and is embarassed by "grisly female habits"), quick to bristle over improper use of scarce service resources and possessed of an "unreasonable faith in Scots". Initially Bond is in awe of his chief, who comes to favor him almost as a son (displaying as much affection as the "Old Devil" can probably muster). In From Russia, with Love, M is depicted as the man Bond "loved, honored and obeyed", giving their relationship all the weight of a marriage, yet in the very next novel a slight arising from perceived lack of confidence by M arouses the first ever hate for him in Bond. Thereafter, their relationship is never quite as close, though M remains devoted to his protegee, so much so that he defies all established practice to rehabilitate Bond after his experience in an enemy mental conditioning program. M's car is a black Rolls Royce Silver Wraith, driven by a former Leading Stoker named Smith.
Known Organization of the British Secret Service
M's office consists of his Chief of Staff, Bill Tanner, and his personal secretary, Miss Moneypenny. Bill Tanner becomes one of Bond's best friends as the series progresses. During the war Tanner was a sapper (ie, demolitions expert), but due to an injury in 1944 he returns to Britain and serves the remainder of the war on the Secretariat to the Chiefs of Staff Committee, which oversees all military intelligence operations. It is from this association that he is recruited by M. M's office is Number 12 on the eighth floor. The remainder of the top floor is devoted to Communications. The first floor has the Records department and there is a gun range in the basement. There is a Scientific Research Section headed by Agent 501, the Chief Scientific Officer of the SIS, and a Diplomatic Section consisting of two agents. Section 100 is devoted to double agent operations.
The 00 Department on the seventh floor consists of only three agents - 007, 008 (named Bill) and 0011 - an office secretary and a department head named Clements, who rarely appears in the stories. Presumably there have been six prior 00 agents before Bond and two lost between 008 and 0011 as of 1951 (though 009 is mentioned in Thunderball and a 006 in On Her Majesty's Secret Service, suggesting that the designations get reused). Little is elucidated of the other 00 agents (006 is a former Royal Marine Commando). The 00 Department secretary is not Miss Moneypenny, but rather Loelia ("Lil") Ponsonby initially and later Mary Goodnight, an ex-WREN. Much of the banter seen in the films between Bond and Moneypenny is based on his relationship with Lil Ponsonby, though once it is mentioned that Moneypenny "often dreamed hopelessly about Bond". Incidentally, the books freely use the expression "Double-O" in place of 00, despite what some have said to the contrary. Mandatory retirement age for a Double-O is 45. The 00 agents are not always sent on assassination missions, but generally when the job is difficult and unusually dangerous. They own the "licence to kill" in the sense that they have the lattitude to kill on their own discretion with the full support and confidence of Her Majesty's Government, which is an indication of their seniority and the respect accorded them. The Double-Os are given deference in choosing their assignments, which is a curious fact.
Although it must be inferred, it would seem that the SIS has sections in its UK Headquarters devoted to all global regions of interest. Typically, there is also a station located in the region, perhaps several and often associated with a major city. Section S for the Soviet Union is headed in London by a tall, thin and one-armed man whose name is not given. That no Station S is ever mentioned is suggestive that no station exists as such inside the USSR (quite likely during the 1950s). Doubtless Section S has a larger than average staff, commensurate with its special significance as an area of priority. In contrast, the Caribbean and Central American Section is merely the London presence overseeing the various stations in that region. Section J for Japan is headed by a Col Hamilton.
Section III seems to be Operations and oversees all field stations. There are numerous deployed stations in various regions of the globe, including in friendly countries. These station agents usually have some plausible cover for their operations. Fawcett in Jamaica is on the photo desk of the Daily Gleaner. Darko Kerim Bey in Instanbul is a spice merchant.
Station

Staff

Station A (America)

Cmdr Damon, Agent 258

Station B (Berlin)

Agent 016, head of station and a friend of Bond

Station C (Caribbean)

Heads of Station: Cmdr Ross, Cmdr Plender, LtCmdr Strangways;
Miss Trueblood (Chief Officer, WRNS)

Station F (France)

Wing Cmdr Rattray (head of Station F); Mary Ann Russell, Agent 765; The station is located in the Saint Germain-des-Pres, Paris

Station H (Hong Kong)

Agent 279 (called himself Dickson, but not named)

Station I (Italy)

Station J (Jamaica)

Cmdr Ross (head of Section J); note that this may be the same as Station C

Station M (Munich)

Lt Cmdr Savage

Station P (Poland)

Station T (Turkey)

Darko Kerim Bey (head of Station T)

Station V (Vienna)

Station W (West Germany)

Head of station is a friend of Bond's

Station WB (West Berlin)

Tanqueray (head of station); Capt Paul Sender (No 2 in station)

Station Z (Zurich)

Alexander Muir (head of Station Z, Agent 410); Shaun Campbell (No 2 station agent)
Miscellaneous SIS Operations & Details
All stations report daily at a prescribed time and frequency (e.g., 14 MHz for Station C, call sign WXN). The call sign for the London office is WWW. Thirty minutes after a missed call in, there is a Blue call (requiring a written explanation or serious reprimand), followed by a Red call 60 minutes after the scheduled call in time. After this, an emergency state is declared. Signals are conducted using Morse code rather than voice and the "hand" of the signaller is analyzed to verify the authenticity of the source.
The total force of the SIS, including all stations, is estimated at about 2000 personnel and the total budget is less than 10 million pounds.
We learn that a query from the field is termed an 1107 and that a field report is termed an 1806.
Allies of Agent 007 and the SIS
Bond's allies include Rene Mathis of the Deuxieme Bureau in Paris, with whom he worked (apparently) during the war.
One of Bond's frequent partners on assignments is Felix Leiter of the Central Intelligence Agency (and later the Pinkerton's security firm). Leiter is a former Marine from Texas and close to Bond in age, perhaps a couple of years older. Despite losing part of an arm and a leg, he remains highly active and a capable operative. He is very lean and has a shock of straw colored hair to go with his mischievous spirit and unfaded boyish charm.
M consults with a Sir James Molony, the foremost neurologist in Britain, concerning his agents. Sir James is not hesitant in warning M about the consequences of the extreme stress with which his agents cope while on operations. He is called to examine and report on 007 repeatedly.
On occasion, despite the restriction against Secret Service operations in the Home territory, Bond is detailed to work with Assistant Commissioner Ronnie (later Sir Ronald) Vallance of the Special Branch of New Scotland Yard. M, ever mindful of the misuse of service resources, always resists such requests but is sometimes overruled by the PM. Vallance controls the Special Branch "Ghost Squad", an undercover special operations unit responsible for smuggling, drug trafficking and similar crimes.
Fleming's Consistency
Fleming can be inconsistent with his details. At least once M's office is described as being on the ninth floor, although usually it is the eighth (possibly due to the European custom of not numbering the ground floor?), and the light above the door indicating that he is not to be disturbed can be blue, green or red (perhaps the bulb burns out...). At one point Communications is on the same floor as M, but in The Property of a Lady, Fleming asserts that the OO Section is adjacent to the Communications Section on the seventh floor. The best estimate of Bond's birthdate is 1918, but it may have been as late as 1921 (assuming he really is about 17 in 1938 when he joins the Secret Service), or even 1924 if we take the impossible allusion to his being born in the Japanese Year of the Rat (which would make him a mere child of 14 when he joined the SIS and conflict with his early history). Usually Bond's facial scar is on his right cheek, but on one occasion its on his left. In Moonraker, Fleming asserts that at the gentlemen's club Blades there are never any bills to members for dining, yet in You Only Live Twice, M pays for his lunch (maybe that covers for that atrocious Algerian wine they keep only for him?). In The Man with the Golden Gun, Bond reflects on his prior experiences in Jamaica and his time with "Honeychile Wilder" (actually Rider) - is this forgetfulness on his part, or a slip by Fleming? Bond's replacement secretary Mary Goodnight begins as a classic Fleming Girl with blue-black hair, but by the next novel she is a blonde (plausible, yet...). At times, such as when he breaks the 4th Wall with self-reference to novels about James Bond by a "former colleague", its obvious that Ian Fleming wrote these stories with a rather whimsical bit of humor that he invests in Bond as well. If he is not too concerned about his consistency, well, objecting to that is like critisizing a painter in water colors that his strokes are bleeding one into another.