Load Development
Factory Loads and Commercial Bullets
When I first bought this rifle, before any restoration work had been done I immediately went to a local sporting good store and purchased a box of the Remington .303 British 180 grain RN factory load. At the range later that day I found that I couldn't put a bullet on paper at 25 yards. I had to use a poster board and walk to within about 15 yards to see the keyholes widely spaced on the cardboard as they exited the muzzle with no imparted spin at all. It turns out that the Remington 180 grain RN factory load bullet only mikes to .310 caliber, a full two-thousandths under the nominal groove diameter. In many Lee-Enfield rifles this may work fine, but in the very shallow rounded grooves of the Metford-style rifling of my Lee-Speed rifle the undersized bullet finds no purchase and comes out of the muzzle tumbling.
However, not only does the undersized Remington fail to enage the rifling, even the correctly sized .312 caliber Hornady 174 grain RN slips through as if the barrel were a smoothbore, creating keyholes when it strikes the target at all. When I slugged the bore on this rifle I measured it to be .3145 inches, well above the standard bullet diameter and a hopeless situation as far as using commercially produced jacketed bullets. Between .312 and .318 caliber is a No Man's Land.
---
Cast Bullets
Well, the obvious fallback is cast bullets. Many Lee-Metfords and Lee-Enfields suffer from oversized bores. Its a wonder to me that some of them ever shot acceptably. Perhaps they did not. Wartime expediency, I suppose. After all, a bullet that exits the muzzle with 90% of its normal velocity and flies downrange is still a hazard to enemy troops. But this rifle is not a converted military rifle; its a purposely built sporting rifle using a commercial sporting action and barrel. It shouldn't have an oversized bore. I speculated that the Metford rifling was finally worn out of it. Looking down a Metford rifled bore, it is hard to tell if it is worn because it is has no crisp sharp edges.
Based on a number of recommendations found on Lee-Enfield interest forums I purchased a .315 caliber 240 grain bullet mould (.315-240GC) from Cast Bullet Engineering of Australia; Jim Allison's new style. The design has a long bore ride nose of a nominal .303 caliber and apparently does work well with many oversized bores using Enfield rifling. I cast these in air-cooled wheel weights and then loaded them unsized and lubed with Lee Liquid Alox. Unfortunately, with this alloy and hardness its three narrow driving bands failed to provide adequate purchase on the shallow rounded Metford rifling and they yawed so severely that, out of eight bullets fired at a poster sized target board at 100 yards, I obtained only two keyholes.
Using some guidance from an online forum, I tried Accurate 5744 and Dacron filler to help the bullets bump up on ignition (the prior attempt had used Hodgdon Varget, a rather slow powder in this small case). Unfortunately, this technique produced the same result: one meager keyhole and five clean misses at 100 yards. Any of several things could be contributing to the poor accuracy:
This bore ride (.303 caliber) bullet design just doesn't have enough bearing surface on the Metford rifling
Even the bearing length of the bullet is probably just barely of sufficient diameter
The bullet hardness is too soft to maintain a grip on the rifling
The bullet is too long and heavy (30 grains over the nominal) for the washed out gain twist rifling
Using some more online guidance, I applied aluminum tape to the inside surface of the mold on opposite sides in order to slightly increase the bullet diameter (about 0.001 inch). Supposedly, the slight oblate shape is not a problem and more surprisingly, the mold isn't supposed to leak or form a web in the gap if its only about a thousandth. Incredibly, this turns out to be true. The as cast diameter now is .316 to .317 caliber. I dropped these bullets straight from the mold into a bucket packed full of ice and water, so the hardness should be around 22 BHN. The test results were encouraging - sort of. The impacts on the target board were keyholes, but they were arranged in a nice tight 2 inch group at 100 yards. That suggests that a shorter, lighter hard cast bullet might stabilize properly in this rifle. However, bullets cast from the 245 grain CBE mold are never going to work in this rifle.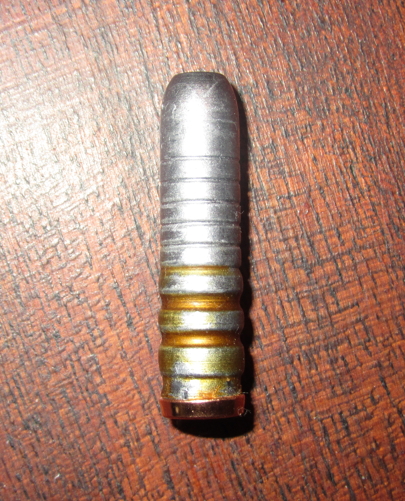 View of the Cast Bullet Engineering (CBE) .315-240GC Design
Incidentally, after trying the CBE bullets and the .312 caliber Hornadys, I cleaned my rifle and was surprised at the amount of fouling that I discovered. Initially, I assumed that all the visibly dark matter in the bore was leading, but the patches were coming out with heavy blue residue from copper fouling. Apparently, one of the consequences of an ill-fitting bullet is heavy copper fouling from gas blow by. Obviously, this does not contribute to good accuracy either and could have affected the performance of the cast bullets.
---
Metal-Tape Patching
I bought some aluminum tape, which brought the diameter of a .308 bullet up to .314 with a single wrap. I also bought a sheet of copper foil with adhesive backing that was advertised as being of 1.25 mil thickness. Two wraps of this however produced 0.011 increase. A single thickness might easily strip off in the bore creating an obstruction and the adhesive backing caused me concerns as far as its likely tendency to adhere after muzzle exit even if partially rubbed off, which I knew from past experience with sticky paper patches was ruinous to accuracy. I might have tried the normal wrap of two thicknesses with an adhesive backing, but this seemed too thick. As an experiment, I tried running this through a Lee .314 cast bullet sizing die, with the result shown in the photos below. It is safe to say that this would have created a similar obstruction in the bore of the rifle. My advice: DO NOT try this!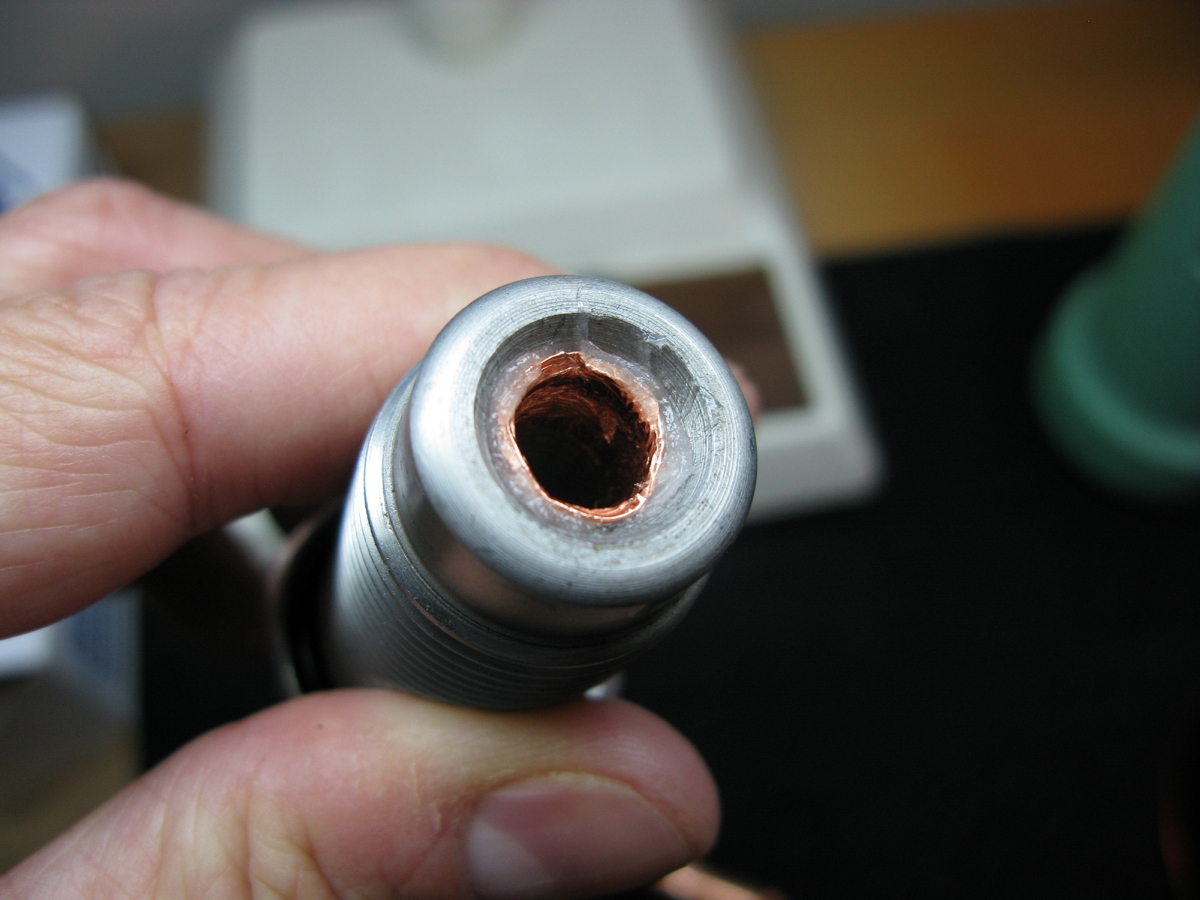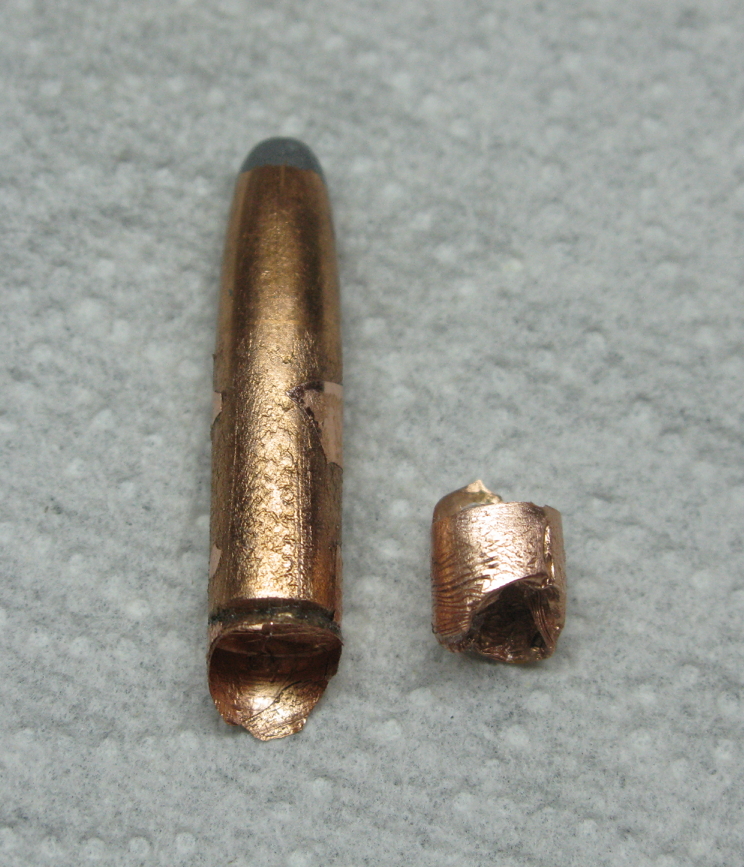 Copper foil galling a Lee sizing die and the remants from the foil wrap on a
Hawk .308-220 grain Round Tip bullet after sizing down to .314 caliber
---
A Last Hurrah for Commercial Bullets
At the urging of the technical representative of Hawk Bullets, I tried the stock .311 caliber 180 grain bullets on the premise that the Hawk bullets will allegedly bump up as much as 0.003 inches on firing. Now, I had small hopes for this working based on my prior experience with the Remington factory ammunition and the Hornady handloads, but if it did work I would be able to use the stock Hawk .311 caliber 180 and 215 grain bullets instead of custom ordered bullets. The bullets miked .3115 caliber, which meant that they would need to bump up a full three-thousandths to work. The problem I felt was that .318 caliber throat and the shallow grooving. There just wasn't anything to initially grab the bullet and let it bump up. Once it got the head start with that .318 freebore, hitting that Metford rifling wasn't going to slow it down. Or, at any rate, it hadn't slowed down the other bullets. Sure enough, this did not work. I did get two hits out of four shots on a poster board at 100 yards, which is marginally better, but they were yawing and about 18 inches apart.
After this last episode I got more curious about the dimensions of the bore and tried an experiment. I already knew that a .308 caliber bullet would pass completely through the bore without resistance. That, in itself, is unusual since the nominal bore should be .303 and even an oversized bore should still stop a .308 bullet right in the throat. But it gets worse. A .309 caliber bullet (Hawk) will pass down 26-3/4 inches of this bore (to the bullet base) before lodging. That is almost the full 29 inch barrel length. A .310 caliber Remington factory bullet will pass 19 inches and, incredibly, a .3115 caliber Hornady bullet will pass 12-5/8 inches before lodging. So, at best the Metford rifling is providing a mere 0.0015 inches of grip on the bullet and that for only about 16 inches of travel. No wonder the old boy struggles with bullet stability (let alone accuracy). This then is indeed one of the fabled Metford bores that got shot out with erosive early nitro powder.
---
Paper Patched Bullets
After I discovered how little rifling remained I was suspicious that part of the problem with my cast bullets might have been their weight and length. Ordinarily, they ought to have stabilized, but with only half a bore of washed out rifling, perhaps there was just no way that would work out. I thought I ought to try something with a lighter bullet weight and see if better accuracy could be obtained in that way.
Two wraps of 9 lb onionskin paper patch applied to the Hornady 174 grain RN nominally .312 caliber (actually .311 to .3115 caliber) bullets results in a final diameter of .317 to .3175 caliber, which coincidentally is roughly the unresized dimension inside of the case neck. This is about .003 over the (final) groove diameter, but my experience is that paper compresses a lot more readily than does metal and in this rifle particularly a firm grip on the rifling is necessary. If the bullet were exactly .315 caliber I do not think that mere paper would hold the shallow and worn rifling.
Patching the bullets is easy. Loading them into the cases is another story. Since they are larger than even the oversized bullet diameter (for which I did buy a .315 expander plug), I had no means to bell the case mouths. The best that I could do was apply an aggressive chamfer. I tried a little lube on one of the patches, but that did not seem to help at all. Half worked out fine, the other half either crumpled or rode the patch up the bullet. So, this is not a great solution. In fact, as it turned out in this case, it was no solution at all because the bullets yawed all over the place making keyholes a foot apart when they hit the target. It might work if more rifling is present and the only concern is an oversized bore.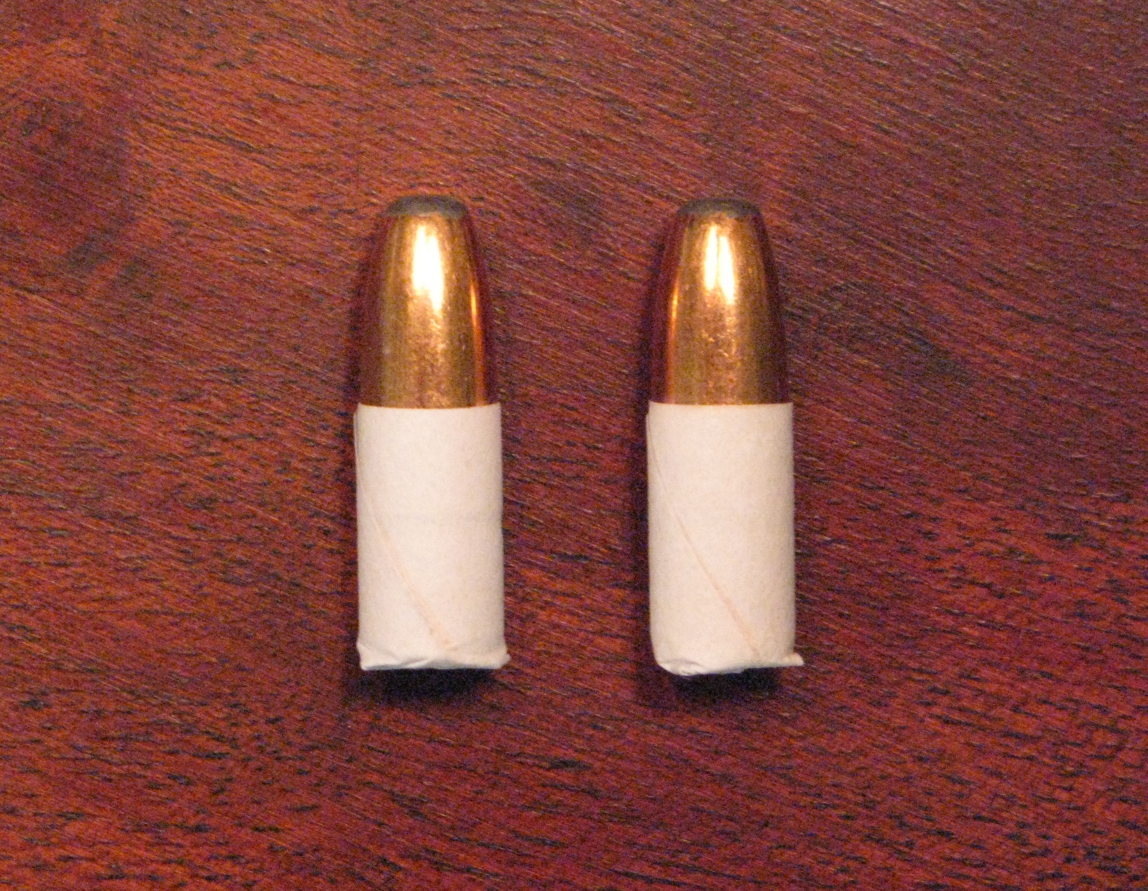 Hornady 174 grain bullets patched with 9 lb onion skin paper to .317 caliber
.303 Lee-Metford cartridges loaded with paper-patched Hornady 174 grain bullets;
Three that worked well (right) and three, not so much... (left)
---
Resized Jacketed Bullets
Based on some information that I found posted online I tried resizing first a Woodleigh .323-220 grain and then a Hawk .318-220 grain using a .314 Lee cast bullet sizer. To put it bluntly, this was (initially at least) a catastrophe. The Woodleigh bullet was too large and too hard (having a thick gilding metal jacket) to be sized in this manner. The sizing die also jammed with a smaller diameter Hawk bullet (yes, I used Imperial Sizing Die Lube and I have a Redding Ultramag press). In both instances the bullet cores had to be drilled out so that the jackets could be forced through. This down swaging technique with Lee cast bullet sizing dies works best as long as the step down in diameter is no more than 0.003 to 0.005 inch, preferably for thin gilding metal jackets, not thick jackets of either gilding metal or pure copper. But more of that later...
Subsequent to this experience, I purchased a .314 caliber CH-4D bullet resizing die on the presumption that a die expressly designed to resize jacketed bullets with a long tapered form instead of an abrupt neck would work better. Initially it did, however after a dozen or so successful sizings, this die also jammed, and thereafter continued to jam with each subsequent attempt. I assumed some copper had galled the die and tried cleaning with copper removing solvent. I also tried Lee Liquid Alox after reading endorsements of that product, but the result was no better. Although I could get no blue from copper remover cleaning solution, evidently the die was galled.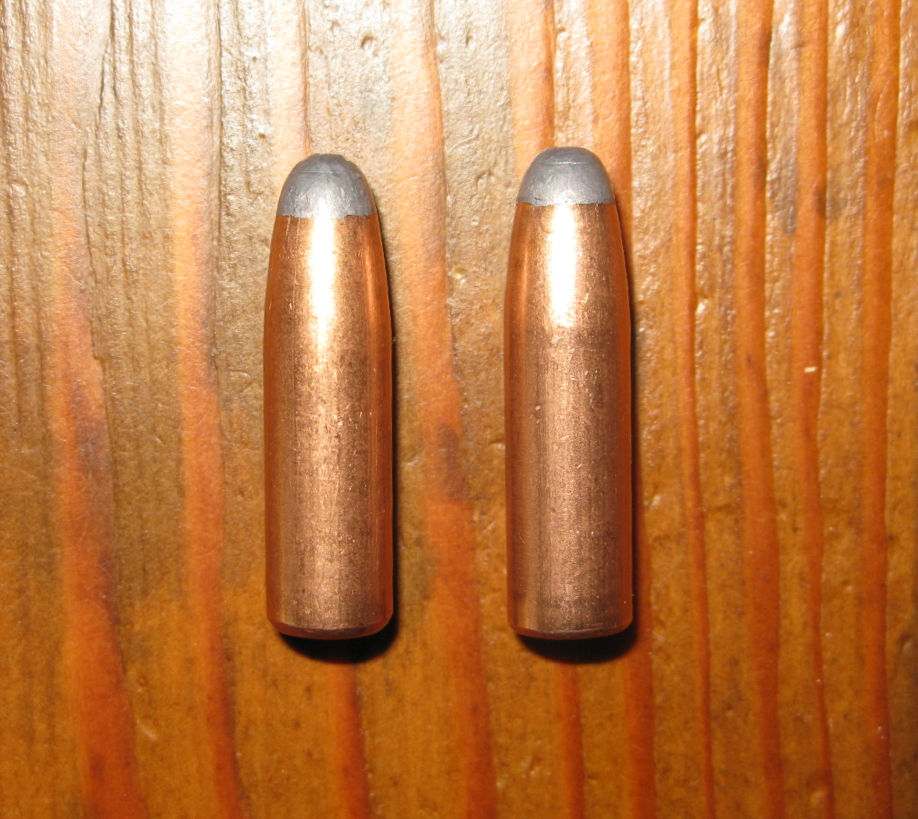 Comparison of the Hawk .318-220 grain Round Tip before and after swaging down to .314 caliber
Nevertheless, I was able to swage down some 220 grain Hawk bullets (designed for the original J Type Mauser) from .318 caliber to .314 caliber (see the figure above) and with these I made a load series using Hodgdon Varget (shown in the table below). For the first time, the impacts on the target board were neat round holes. Success! Accuracy, while nothing to get excited about, was probably adequate for any task suited to iron sights and my aging eyes.
I was on the verge of sending the die back to CH-4D when I decided as a last resort to try polishing the inside of the die with jeweler's rouge and cleaning it with Sweet's 7.62 Solvent. This stuff is nasty, but even if your normal ammonia-based solvent is getting no blue, run a patch soaked in this sticky stuff through the bore and you'll instantly see lots of blue. It will also damage your barrel, so beware. Anyhow, I don't know what worked, but when I tried sizing again - this time with grotesque amounts of sizing die wax - it worked like a charm. I managed to size another dozen or so before it started to get sticky. The trick is to stop if you are getting too much resistance, thoroughly clean the die (and dry it of solvent) and then pack it full of lube (I am not exaggerating) before trying again.
Armed with better technique, I went back and tried the Lee die. This time it worked, however the final diameter is only .3135, which is a full 0.001 under my groove diameter, so I will use the CH-4D die instead.
Having enjoyed such success with swaging down the .318 caliber Hawk bullets, I next tried .318 caliber Woodleigh Weldcore bonded bullets. Now these have heavier and harder jackets than the Hawks, so I had misgivings, but unlike the .323 caliber bullet that I tried, the .318s went through the die in a snap. They are, if anything, a better downsized bullet than the Hawks and being 20 grains lighter can be driven to roughly 200 fps higher muzzle velocity, which will ensure better expansion.
So, now I have two options. The first is to continue to swage down Hawk and Woodleigh .318 caliber bullets, which frankly is the best approach. It works. I lost a few in the process with my first attempt, but in swaging my second box of bullets I never had one get stuck. Technique is everything. Secondly, Hawk will make a custom run of bullets in any caliber you want, provided that you order a quantity that makes the new tooling expense worthwhile. They quoted me a price of $40 per box for a minimum order of 10 boxes, which is actually quite a good deal if you think about it.
Incidentally, in later testing specifically for accuracy, these loads grouped inside about 2 MOA at 100 yards, which is as good as I can practically manage with open sights these days. So, I think the accuracy is there.
Looking at the Varget load series (in the table hereafter) with the Hawk .314-220 grain RT bullet, you see that I exceed the Hodgdon / ADI maximum charge by 2.5 grains. The only reason that I was willing to do this is that the muzzle velocity achieved at maximum recommended charge was a full 300 fps below what ADI achieved (with a shorter barrel) and I observed no evidence of high pressure. I attribute this to the generous .318 caliber throat (essentially a freebore) and to the oversized bore and very shallow Metford rifling. My max load is still about 100 fps shy of the velocity achieved by ADI. Now, all of that said, Woodleigh reports in its new loading manual that they reached 41 grains with Varget without difficulty (obviously using a .312-215 grain Woodleigh RN), for a muzzle velocity of 2170 fps, which is very close to what I got with 42 grains. They also pushed the Reloder-15 to 43 grains and 2250 fps, for whatever that is worth.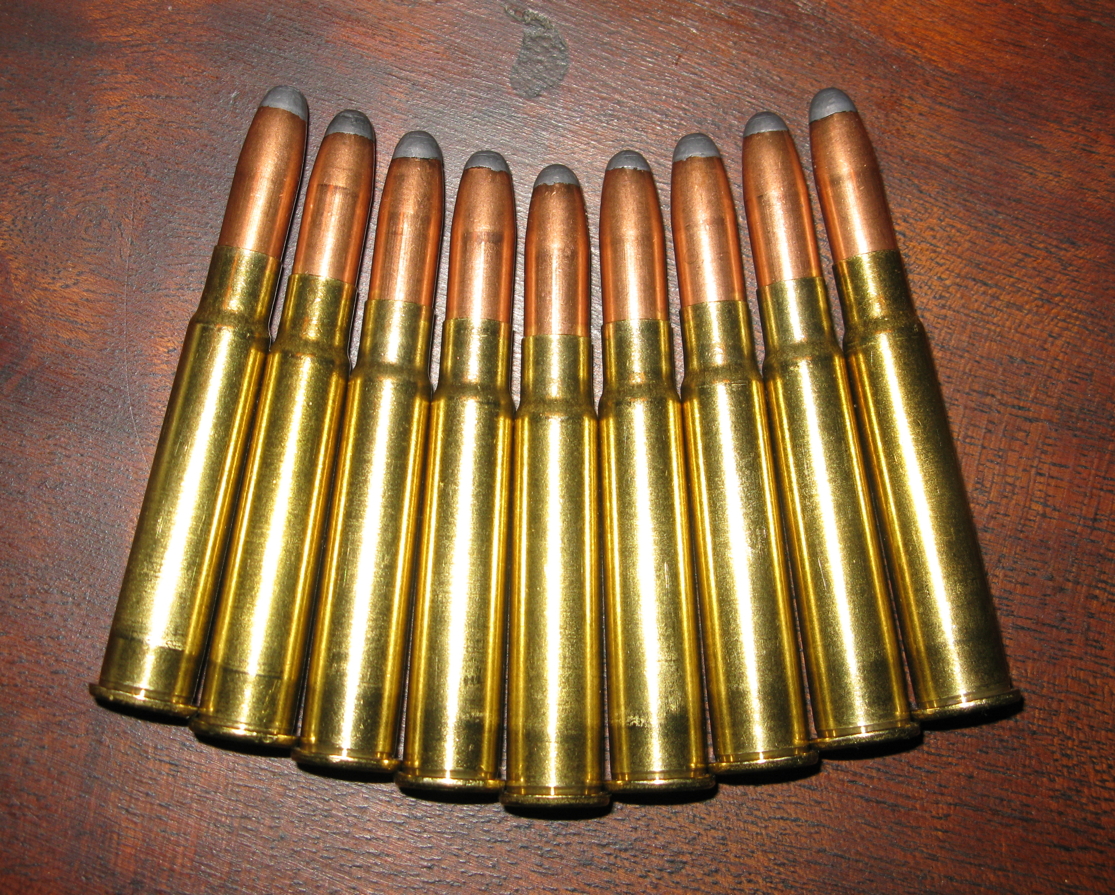 Almost a full magazine load of .303 Lee-Metford cartridges loaded with Hawk .314-220 grain bullets
Incidentally, in examining my cases for pressure I discovered that the Winchester brass is a full 0.010 inches - that's ten thousandths - undersized at the case head, relative to the SAAMI specification for this cartridge. Its .450 versus .4601 per SAAMI. The case head is thick and doesn't fireform to the chamber, but where it thins enough to fireform above the head there is a ring. So, needless to say, the brass is not going to last long with anything close to normal loads. I suppose this is part of Winchester's plan to sell more brass.