Building the Rifle
The first thing that had to be done was to replace the stock. Someone, lacking either mechanical aptitude or aesthetic sensibility, modified the original military stock in a most abominable fashion. I wish I had a good photograph. It was truly hideous. Pieces of bird's eye maple had been glued onto the spine of the buttstock, with liberal amounts of putty applied to fill in the gaps where skill failed to join the pieces of wood seamlessly or where gouging had occurred. The curve of the grip and trigger guard no longer matched even crudely. No effort had been made to modify the military forearm, other than to add a black plastic tip. It had a definite 1960s or early 1970s tackiness about it (white line spacers, the whole nine yards).
Possibly worse, the barrel had been sawed off and crowned (I dare not guess how) such that it was not square. Although I never shot the rifle in this condition, I can only assume that a muzzle that was not true did not contribute to good accuracy. Fortunately, at least 24 inches of barrel remained and re-cutting and crowning a barrel is not difficult.
I placed order with Great American Gunstock Co. for a high grade English walnut stock in the Freischutz pattern, which is a very traditional European style with a pancake cheekpiece and considerable drop at the heel. I specified a long pull (over 14 inches), since prior experience with a Mannlicher-Schoenauer showed that to be correct and I knew that most English stalking rifles also had pulls in the 14-1/2 inch range.
1895 Mannlicher Stock Blank from Great American Gunstock Co.
My brother is a talented amateur gunsmith and has built several Mausers, in addition to rebuilding other guns including antique shotsguns and a Ruger No. 1 to look more like an orginal English Farquharson. He was chomping at the bit to get his hands on my Mannlicher and I was only too happy to oblige his craftsman's urge.
The first thing that my brother did was convince me not to replace the military bolt handle with a sporter butterknife style. He also bent the bolt over. You see all three types of bolts on vintage .256s, but truly the most commonly encountered is the bent over military bolt. It looks right on this rifle and it lends a definite suggestion of British origins to it (only an Austrian sporter would likely have a butterknife bolt handle, until you get to the later Schoenauers converted by Jeffery and others).
I specified a rear island sight with one standing and a single folding leaf, but the standing leaf must not be so tall that the Lyman aperture sight was obscured, since that was intended to be the primary sight. Our experience with an aperture sight in practical shooting (especially standing) showed that it conferred a marked increase in the effective range of shooting and came on line much more quickly than plain or express sights. Nevertheless, I liked the aesthetic of the express sights and requested the island rear.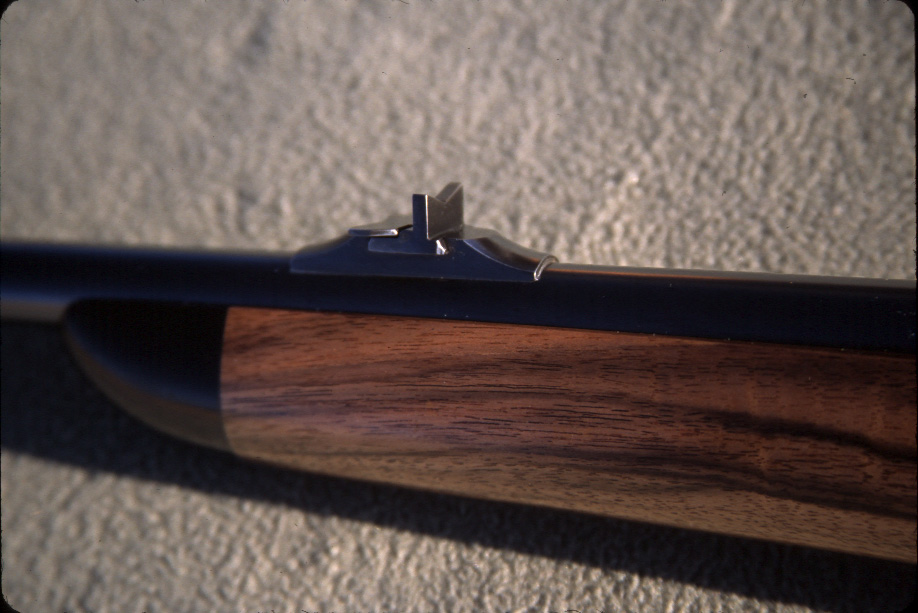 Rear sight detail showing fixed standing blade and one leaf on island
The front sight was a New England Custom Guns (NECG) Masterpeice banded ramp sight, the one you see on practically every custom rifle made today. It is very sharp looking and has a variety of bead inserts. I selected the fine silver bead with flip up night sight. The latter is a much larger paddle shaped bead that is hinged to the front of the bead insert. In low light it can be flipped up into place, providing a much coarser but far more visible front sight.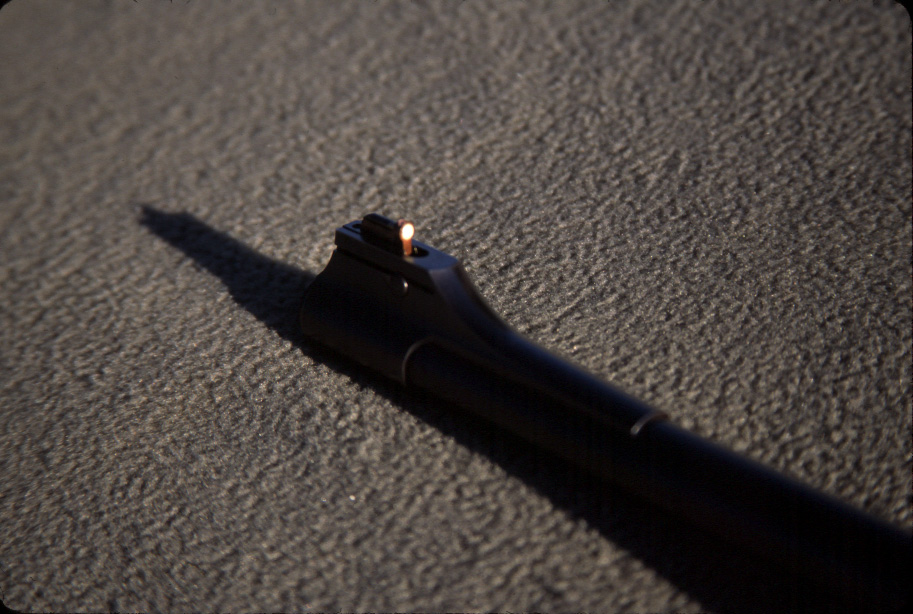 Front sight detail of flip-up night sight
I wanted a barrel band swivel and European style rear swivel (naturally), ebony fore-end tip, Dressels steel grip cap, and steel butt plate (my favorite butt design - though, as my brother reminds me, they tend to prove treacherous when propping up a rifle). He also contributed some aesthetic details of his own: an inletted German silver shield in the butt for engraved initials, ebony crossbolt plugs and rich carving of a very slender and graceful stock with a classically British short forearm. We had a little trouble, owing to a misunderstanding with Great American Gunstocks on the pattern, but in the end my brother was able to make the stock I had wanted from the blank they provided and the wood is gorgeous (the figure near the bottom of the carved stock is one they cut, possibly for pattern making, that did not have high grade wood).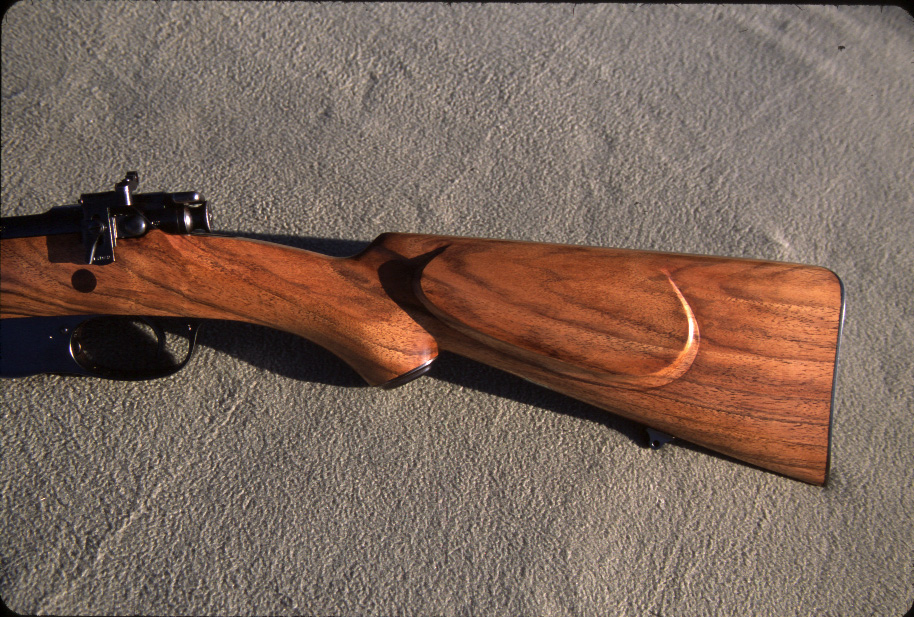 Butt stock detail showing grip cap, European swivel and inletted steel butt plate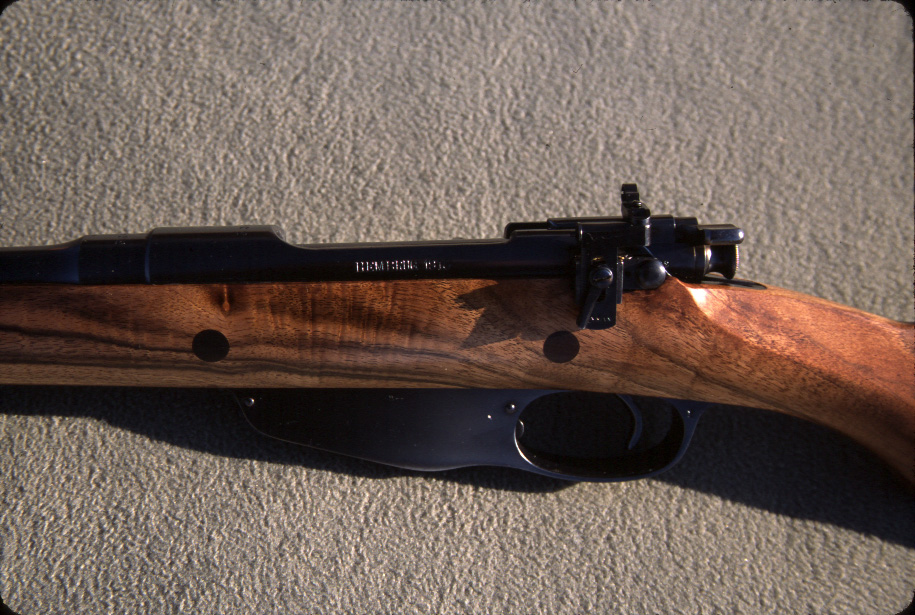 Left side detail showing cross-bolts and Lyman aperture sight on bolt release
The fitted and finished stock for the .256 Mannlicher 1895 (right profile)
The fitted and finished stock for the .256 Mannlicher 1895 (left profile)
The checkering was performed by Tim Smith-Lyon (Classic Checkering), who does a very fine job. I got a custom panel pattern at 22 lpi that wraps the forearm and the side of the grip in a manner complementary of my brother's stock carving.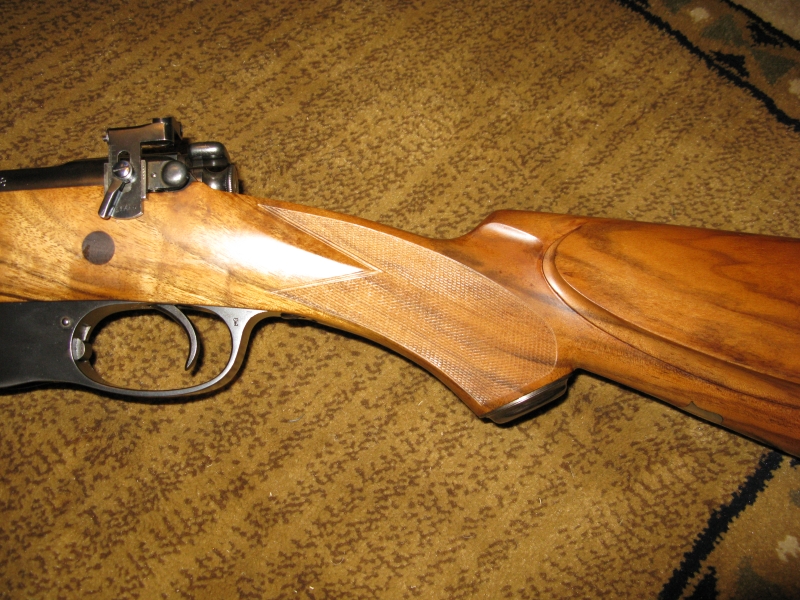 Closeup of the grip panel checkering by Tim Smith-Lyon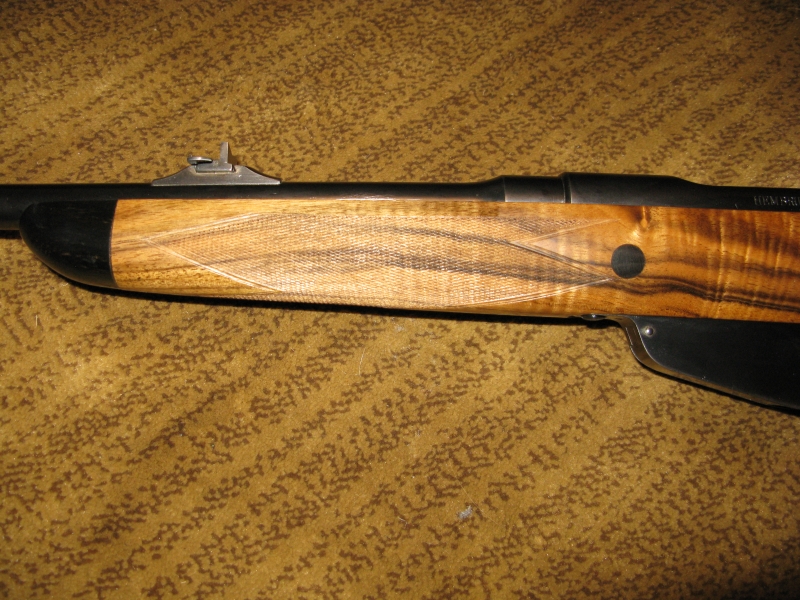 Closeup of the forearm panel checkering
This rifle is one of my most highly prized arms. I have never seen a vintage Mannlicher that looked this good. None of the originals that I have encountered sported anything but plain grained wood, nor did they have appointments and fittings of this quality (e.g., ebony plugs over the crossbolts) - and that includes the two Holland & Holland custom .400/.375 take-down Mannlicher-Schoenauers I have seen on auction. But this is much more than a beautiful rifle. It is a finely crafted sporting arm; rugged, reliable and capable of precision shooting in the game fields.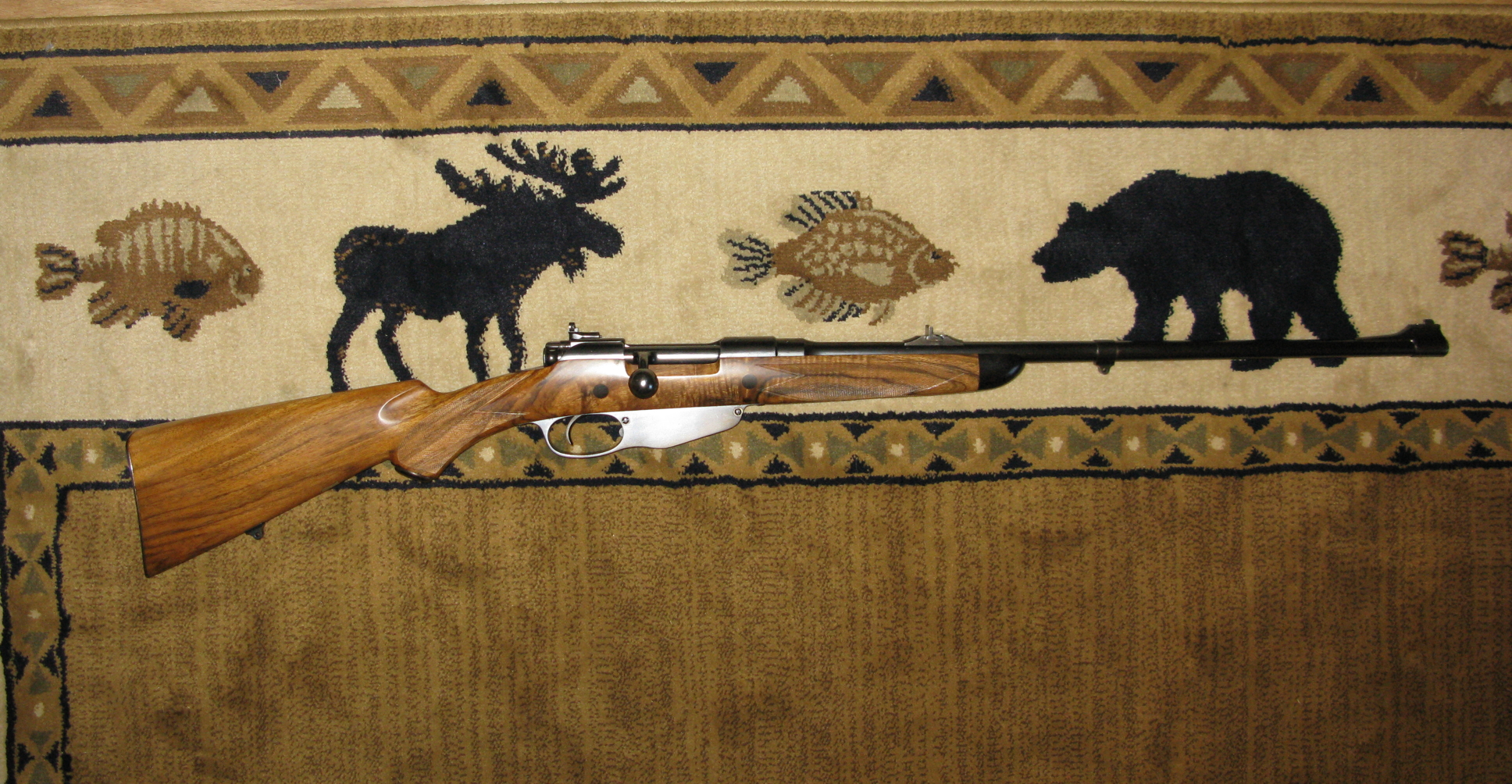 The fully restored .256 Mannlicher 1895