Introduction
This 10-day safari for plains game, the first safari for myself and my brother, was undertaken in May of 2001. Arrangements were made by Adam Clements of Safari Trackers. We hunted with Namibian game management officer turned professional hunter Allan Cilliers, the former head game warden of the Etosha National Park, Namibia's world renowned premier wildlife preserve. At that time, Cillier's outfit, Allan Cilliers Hunting Safaris, (then known as !Ha N!ore Safaris) operated a huge concession in northwest Namibia, comprising some 240 square miles (150,000+ acres) of leased government and private land, which was staffed with full time perimeter security, maintenance and game management personnel. This venture, known as the Eden Wildlife Trust (Pty), Ltd., was created with the financial backing of a South African vintner primarily as a wildlife refuge but subsidizes its revenues with limited trophy hunting by rifle and (especially) by bow hunters. It is home to a remarkable panoply of wildlife and many endangered species. I believe that the Sandveld Game Ranch now owned by Cilliers comprises a portion of the former Eden holdings. Cilliers' staff includes individuals who have worked with him since his days in the park service as well as a group of San bushmen trackers whose skills are uncanny. Cilliers also operates a camp in the Caprivi to hunt dangerous game.
Allan Cilliers Hunting Safaris

Telephone Numbers:
011+ (264) 67-23-2676 (landline)
011+ (264) 811-29-0708 (Allan mobile)
011+ (264) 812-36-5012 (Wayne mobile)
Email Addresses:
allan@cillierssafaris.com
allan@cilliershunting.com
allancilliers@africaonline.com.na
wayne@cillierssafaris.com
wayne@cilliershunting.com
jacqui@cillierssafaris.com
jacqui@cilliershunting.com

Download the entire story in a Microsoft Word® file (55 pages) here.
All photographs were taken with a Canon EOS-3 body, 28-135 mm f3.5-5.6 EF or 300 mm f4 L IS + 2X EF lenses, and 550EX flash, using Fuji Provia 100F color reversal film and scanned using a CanoScan FS 2710.
Travel and Travail
Before we ever got to Eden, our rifles and my brother's main gear duffel had been lost when we changed planes in Johannesburg. This caused us to lose a day of hunting since we had to return to the Windhoek airport the following morning. Allan Cilliers set us up with rooms at the Onganga Hotel Pension, a quiet and extremely nice and affordable accomodation on the outskirts of Windhoek with a sunset view of the mountains. We arranged to stay at Onganga on the return trip homeward, cancelling our reservations at the Kalahari Sands Hotel and Casino as arranged by the travel agency. That night he took us to Joe's Beer House, which I heartily recommend as the only place for hunters to dine while in Windhoek.
The next morning we returned to the Hosea Kutako International Airport, where we were fortunate enough to receive my brother's gear bag, but still no rifles. The only reason that we ever got them (after another three days) was that a wonderful fellow named Louis, the proprietor of the Afton Guest House in Johannesburg, came to the airport there, located the rifles (which were sitting in plain view in the "lost" section of the security area), tagged them to come to us "express" and made certain that they were on the next flight to Windhoek (whereupon Allan compelled the airlines to hire a 4x4 and deliver them using GPS coordinates!). This is the kind of treatment that the guests of Afton House can depend on and I urge anyone stopping over in Johannesburg to lodge there because Louis will take care of you from the moment you clear customs (which is not a second too soon in Jo-burg!).
Onganga Hotel-Pension

Afton Guest House

Telephone:
011+ (264) 61-24-1701
Telephone:
011+ (27) 011-391-7625
011+ (27) 011-391-4393
011+ (27) 011-972-5259
011+ (27) 083-444-4432
Facsimile:
011+ (264) 61-24-1676
Facsimile:
011+ (27) 011-252-8653
Street Address:
11 Schuckmannstrasse
Avis
Windhoek
Street Address:
17 Aftonwold Way
Aston Manor
Kempton Park
Johannesburg
Postal Address:
P. O. Box 90668
Windhoek
Namibia
Postal Address:
P. O. Box 11802
Aston Manor
Eastern Gauteng, 1630
Republic of South Africa
Email Address:
onganga@mweb.com.na
Email Address:
aftongh@netactive.co.za
My Brother at the Rondaval Bar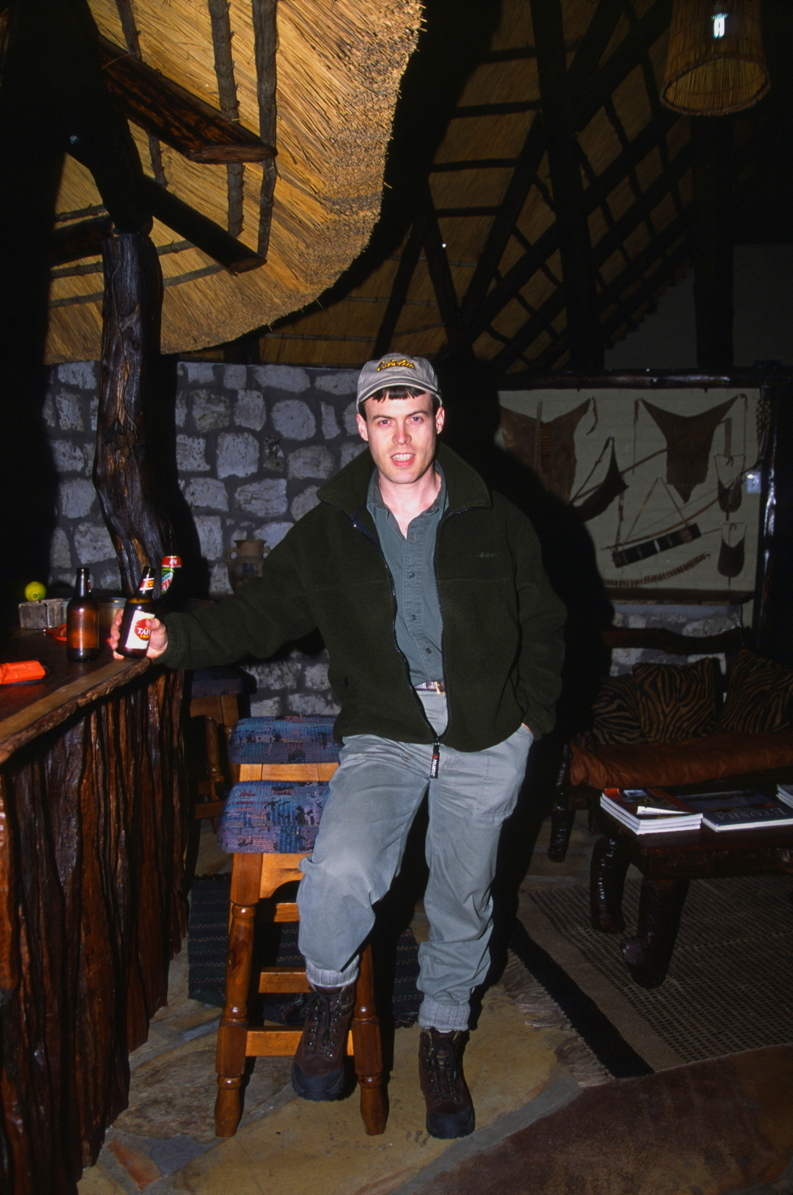 I Arrive in Camp and Relax with a Tafel Lager
Tafel lager in hand at the bar in the rondaval on our first night in camp after a long six hour drive from Windhoek. You can see bushman bows and other artifacts on the wall over my shoulder. Its chilly at night in May because that is the start of autumn in Sub-Equatorial Africa.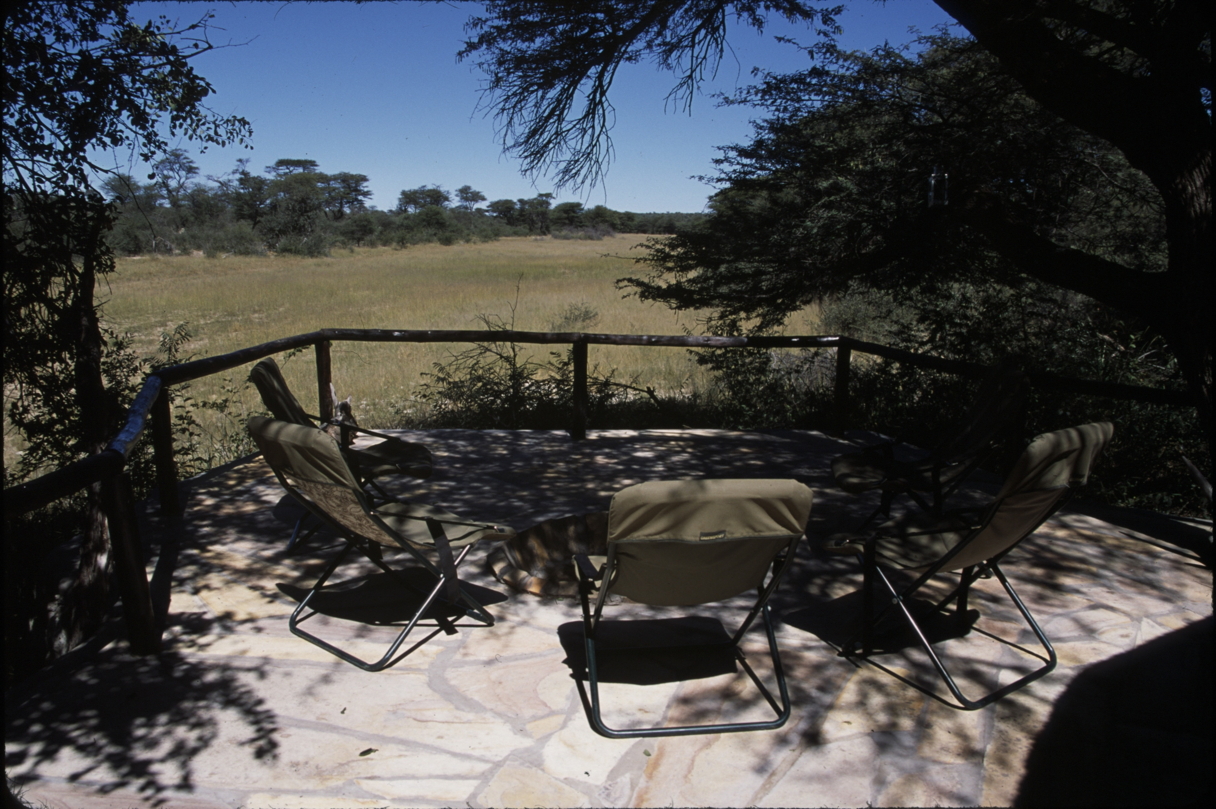 The Lapa Overlooking the Omataku River
The Omataku River once flowed after the rains all the way into the Okavango, but it hasn't for many years. In 2001, the river became discontinuous some two miles upriver from the camp. Water collects in depressions, like the one just beyond the balcony, all along the dry river bed, itself grown thick with tall grass and a haven for big mambas.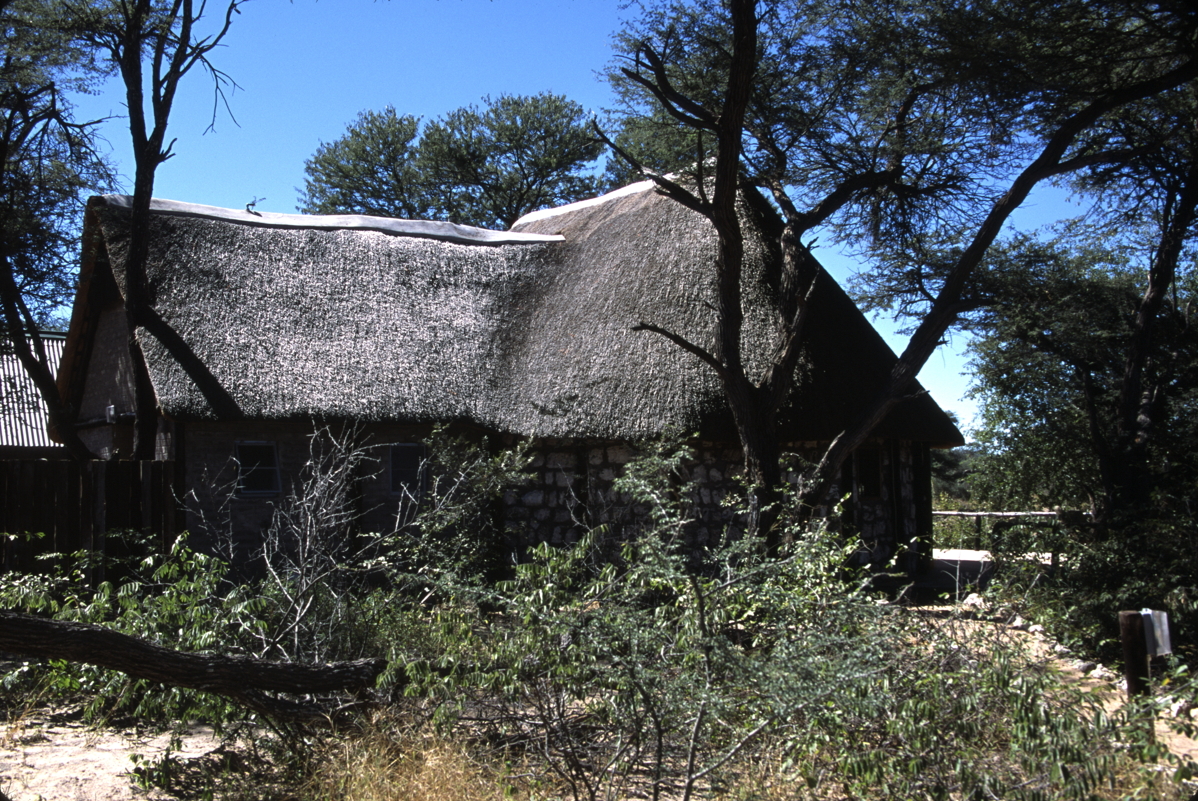 Outside of the Rondaval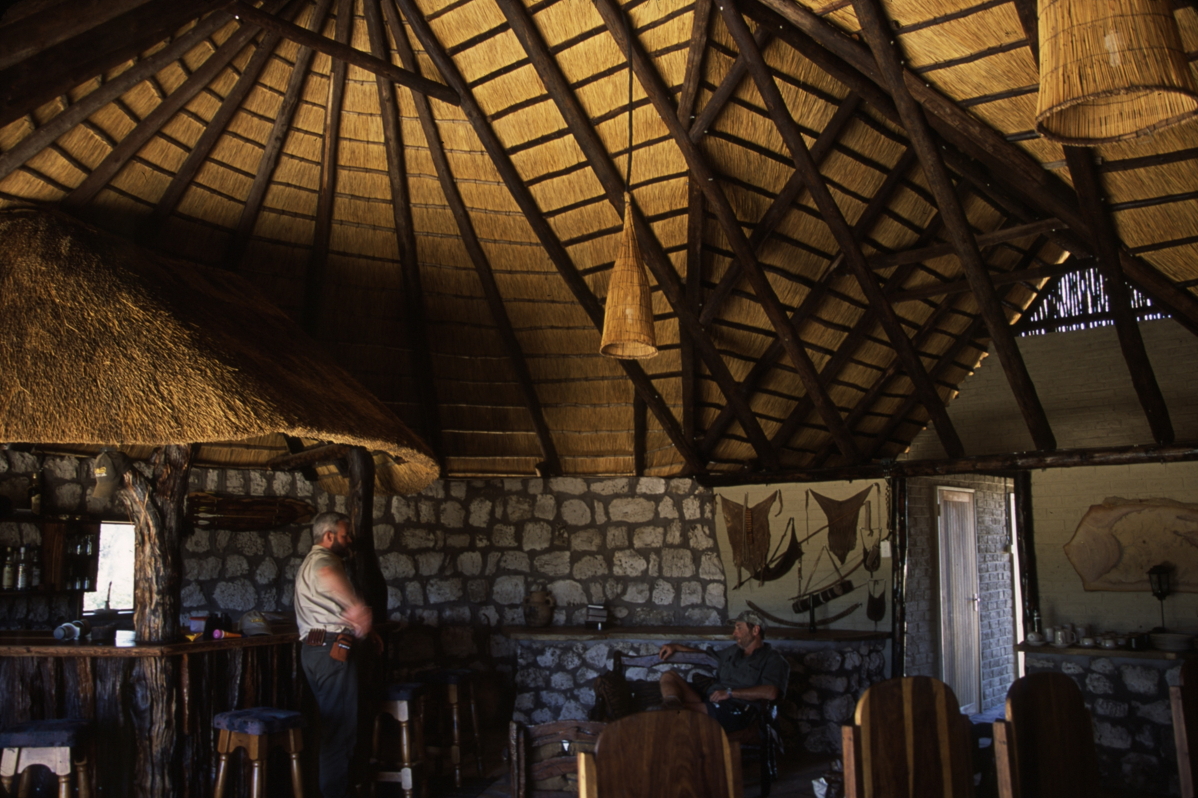 Steve and Allan Cilliers Inside the Rondaval
Constructed by Cilliers and his crew from native stone, timber and cut straw, this lofty structure offered a cool retreat at midday from the intense sun. The main area of the rondaval also contained the bar (seen on the left) and served as our dining area, as well as holding the wine closet, kitchen, and Cilliers' office. There was a propane powered drink cooler in the bar.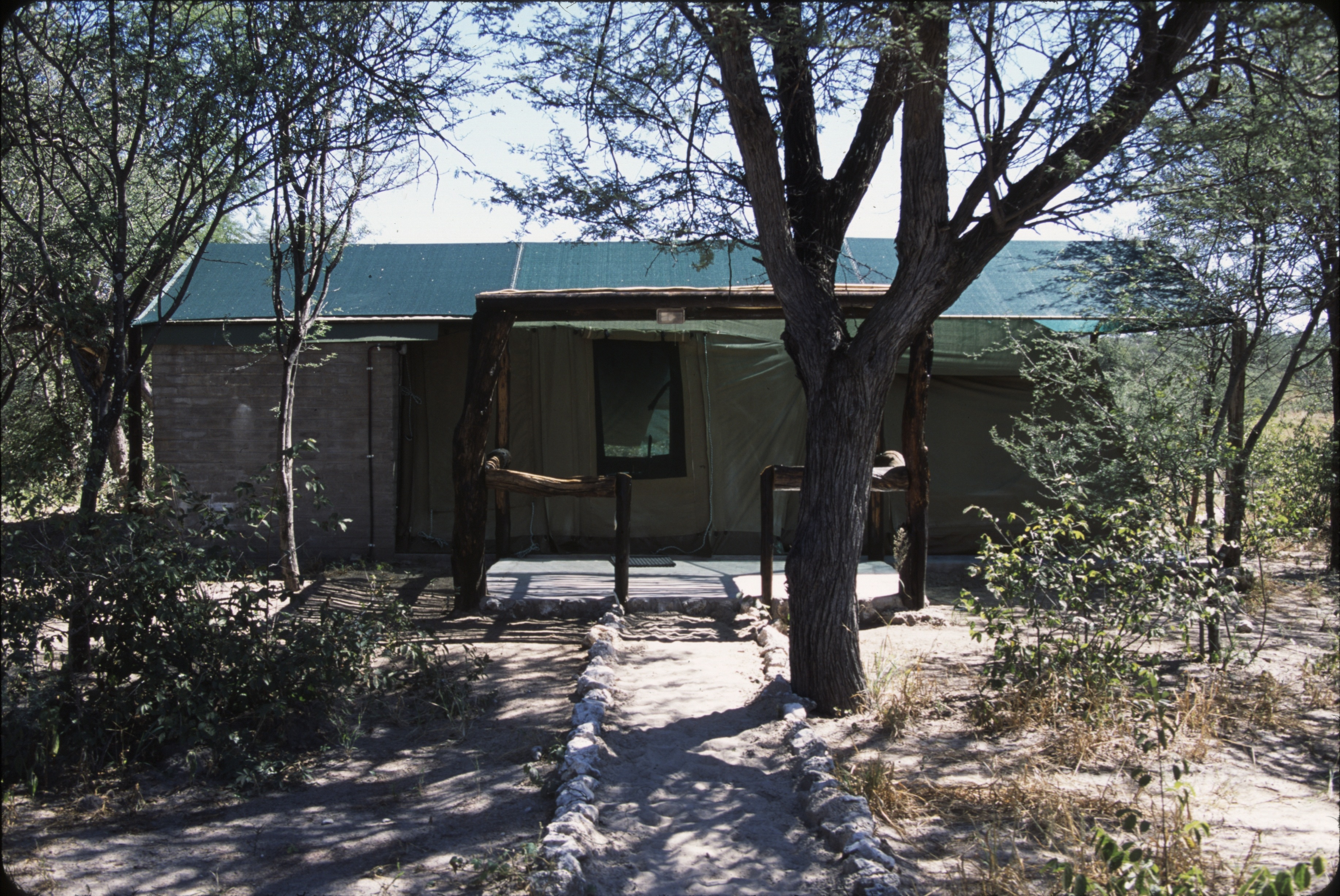 The Walkway and Entrance to My Tent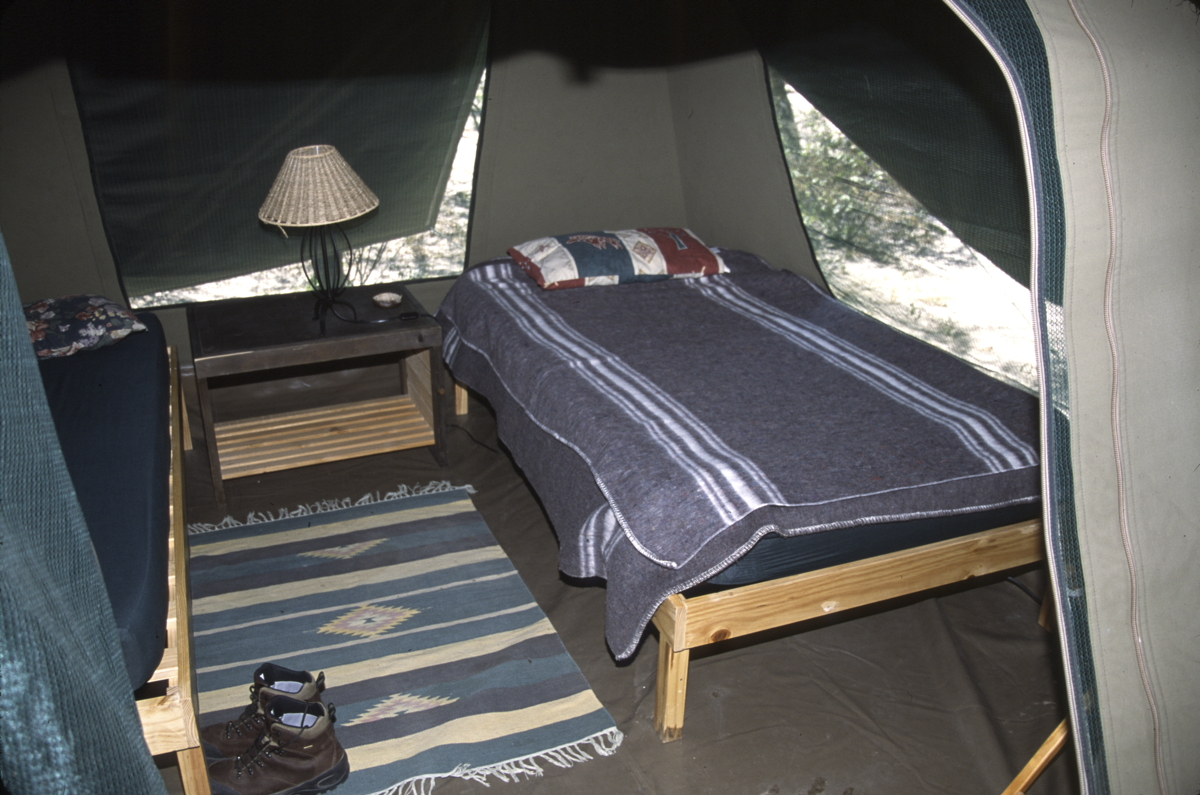 Inside My Sleeping Tent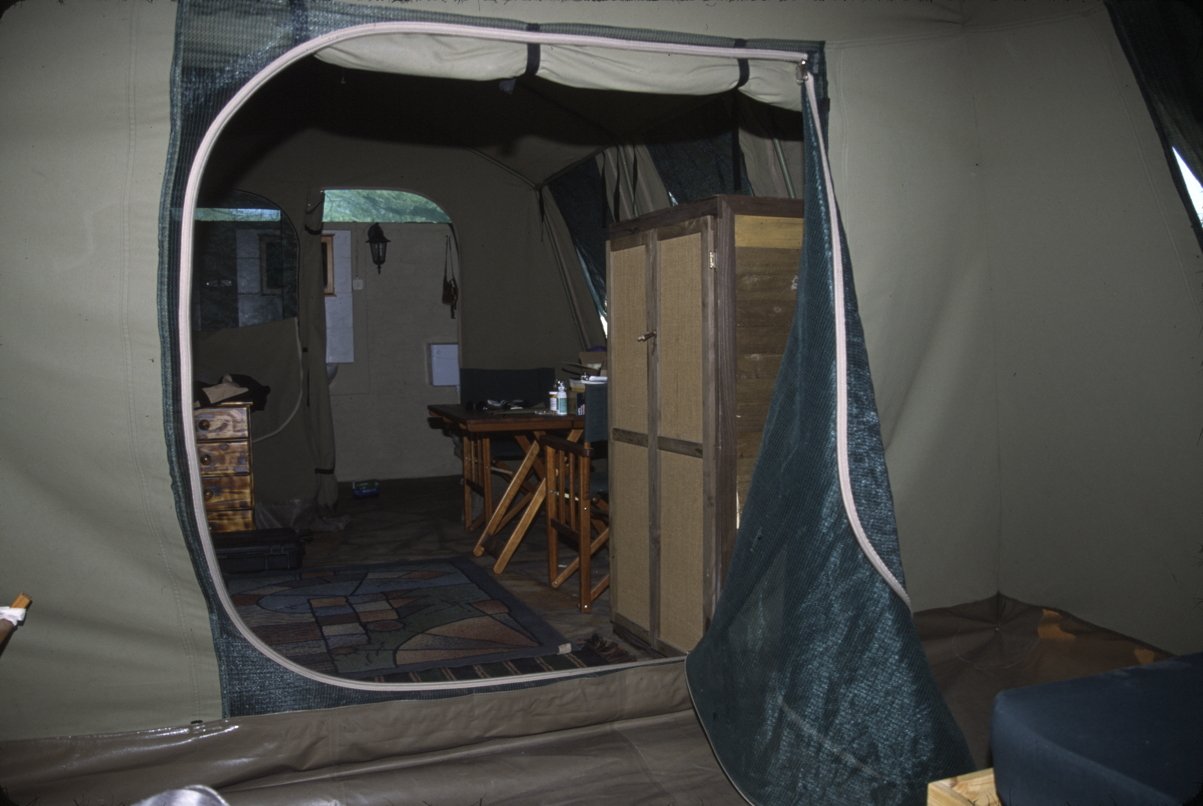 Looking from My Sleeping Tent Through My Sitting Area to the Bathroom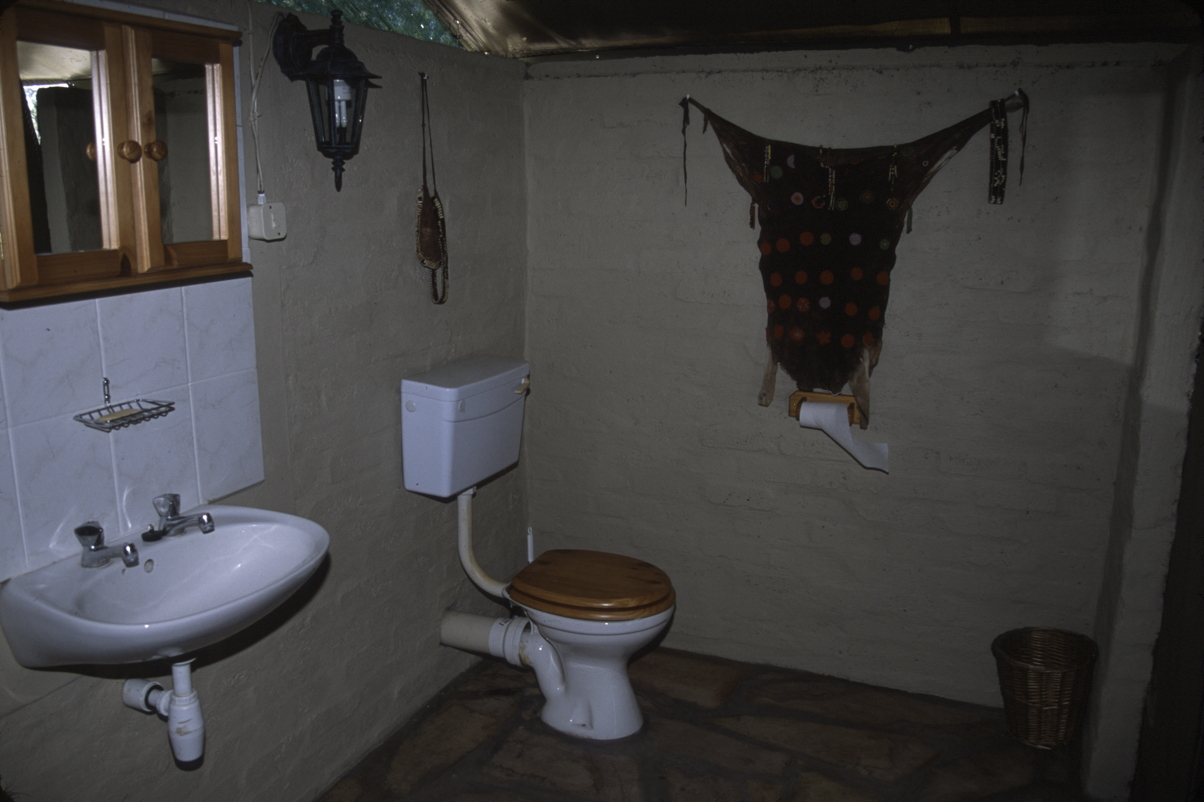 An Admirably Modern Toilet Area
Unanticipated luxury in rustic settings. Our tents were permanently fixed to stone pavements and covered by a higher canopy that kept the heat of the sun off and allowed a cooling layer between the tent roof and the canopy. On one end was a three sided stone walled bathroom with the usual amenities, including hot water provided by a 55 gallon drum on a fire box! The sleeping area was screened and daily checked for creepy crawlies (although the open ceiling of the toilet / bath area permitted a permanent residence by geckos and there was a deadly six-eyed crab spider lurking behind the mirror that I daily harassed). The spacious main area was nicely furnished in rustic fashion. We had fluorescent lights powered by a battery array that was recharged with solar panels by day.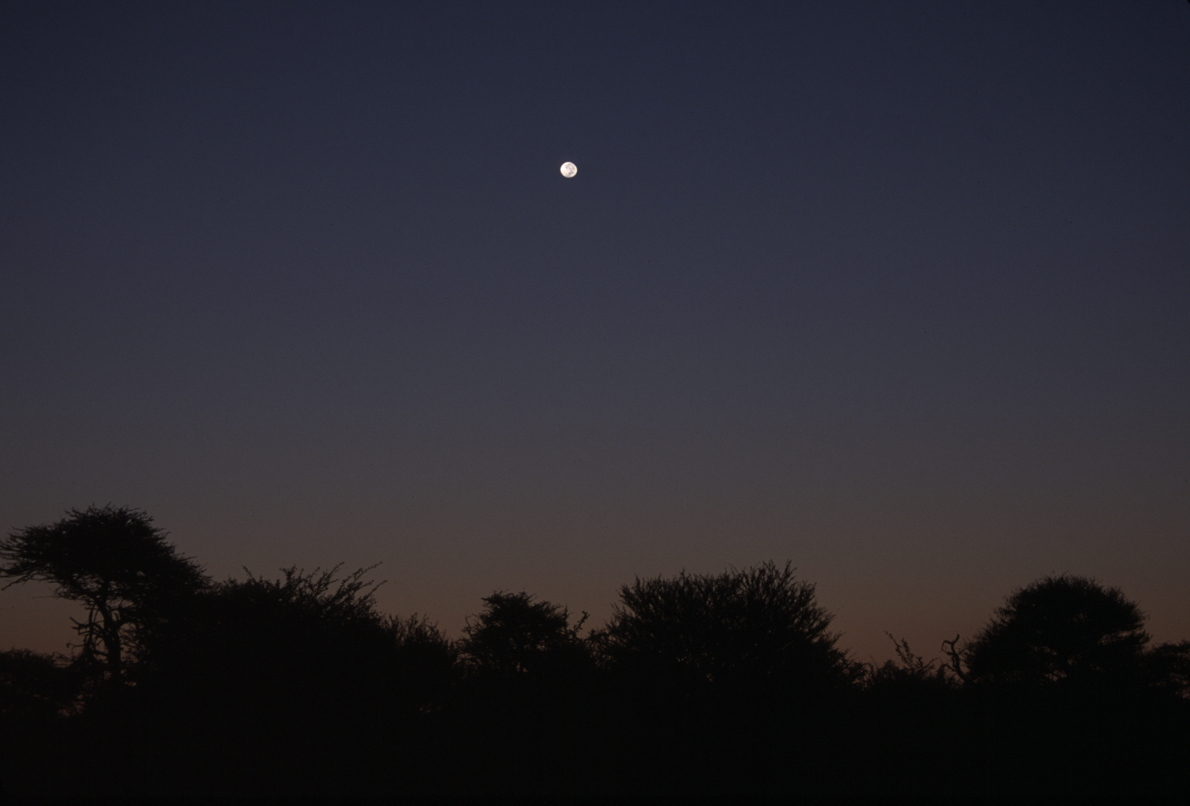 The Full Moon in the Pre-Dawn Over the Acacias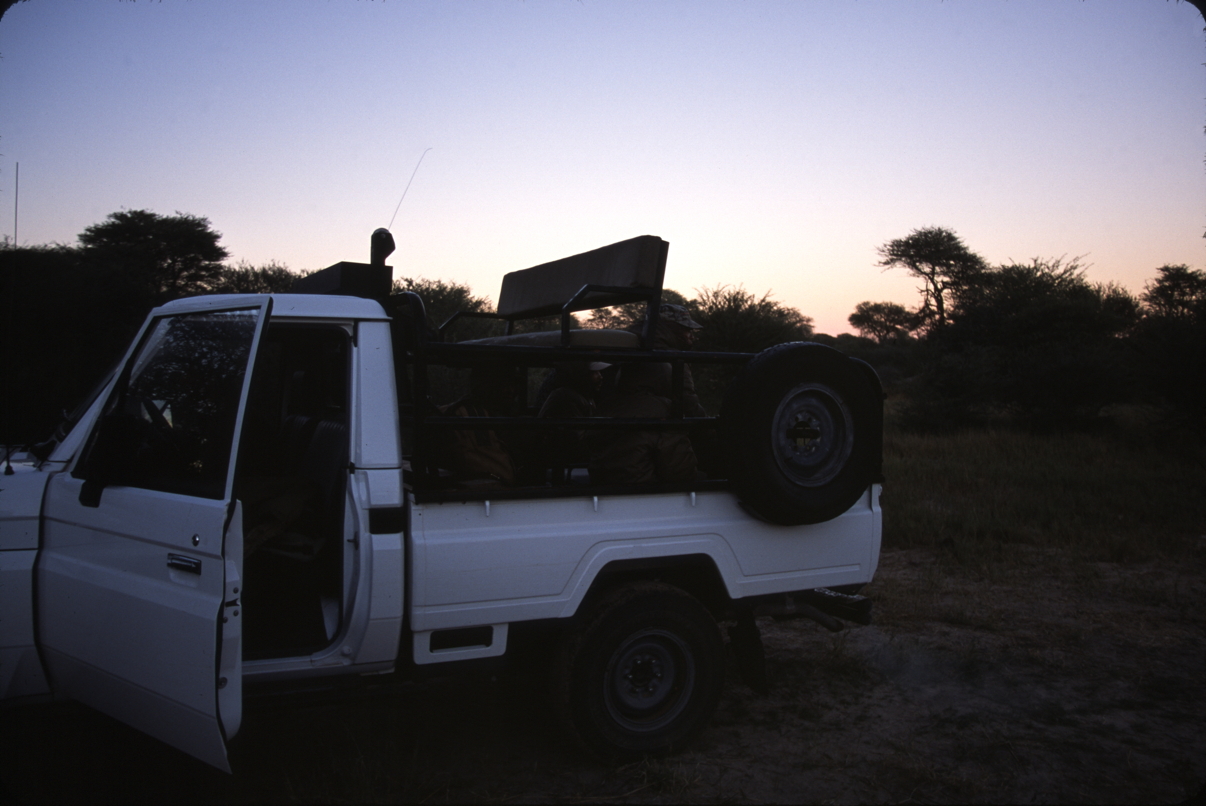 The Bushmen Trackers are in the Truck for an Early Start
The bushmen are in the back of the truck and ready to go as dawn begins to show against the trees. We got off to an early start each morning. Cilliers usually awakened us while it was still dark or at first light and we had just enough time to grab our gear and eat a quick bowl of cereal with fruit and juice before we headed out. As this was the end of autumn in Namibia, it was chilly most mornings and the windshield frosted once.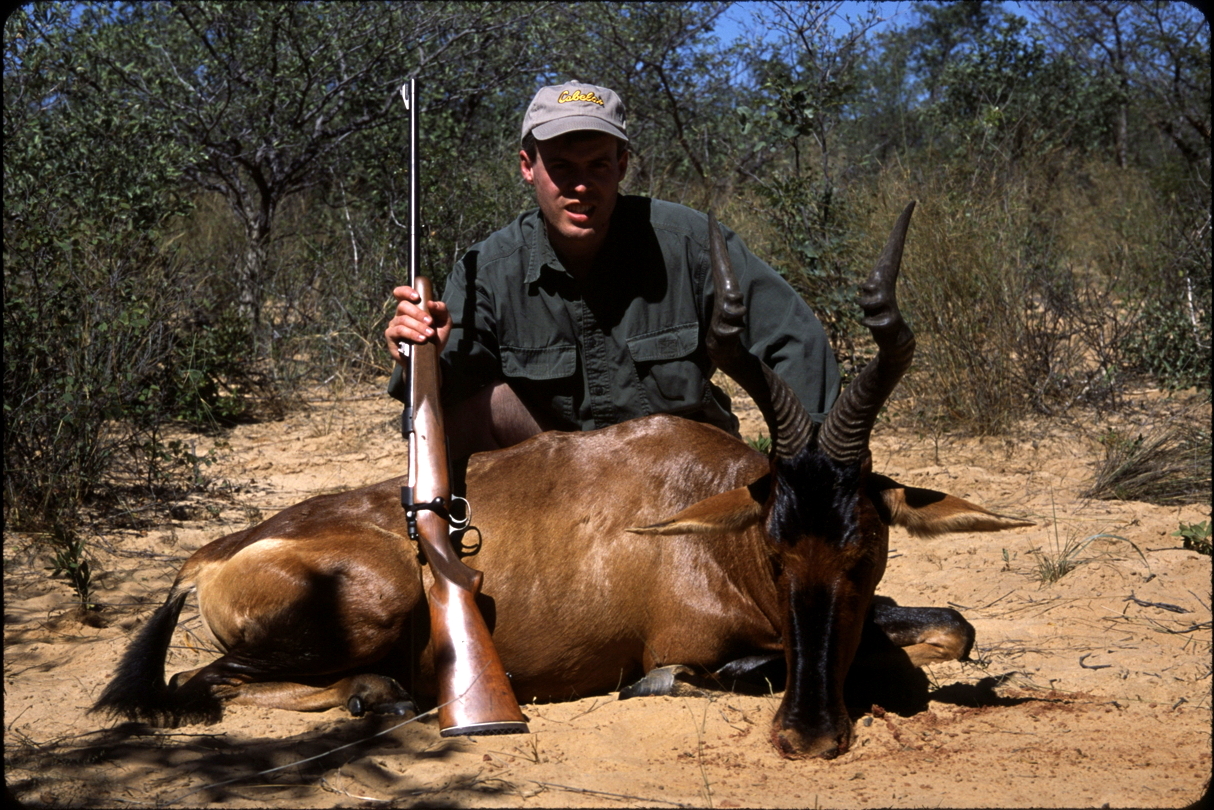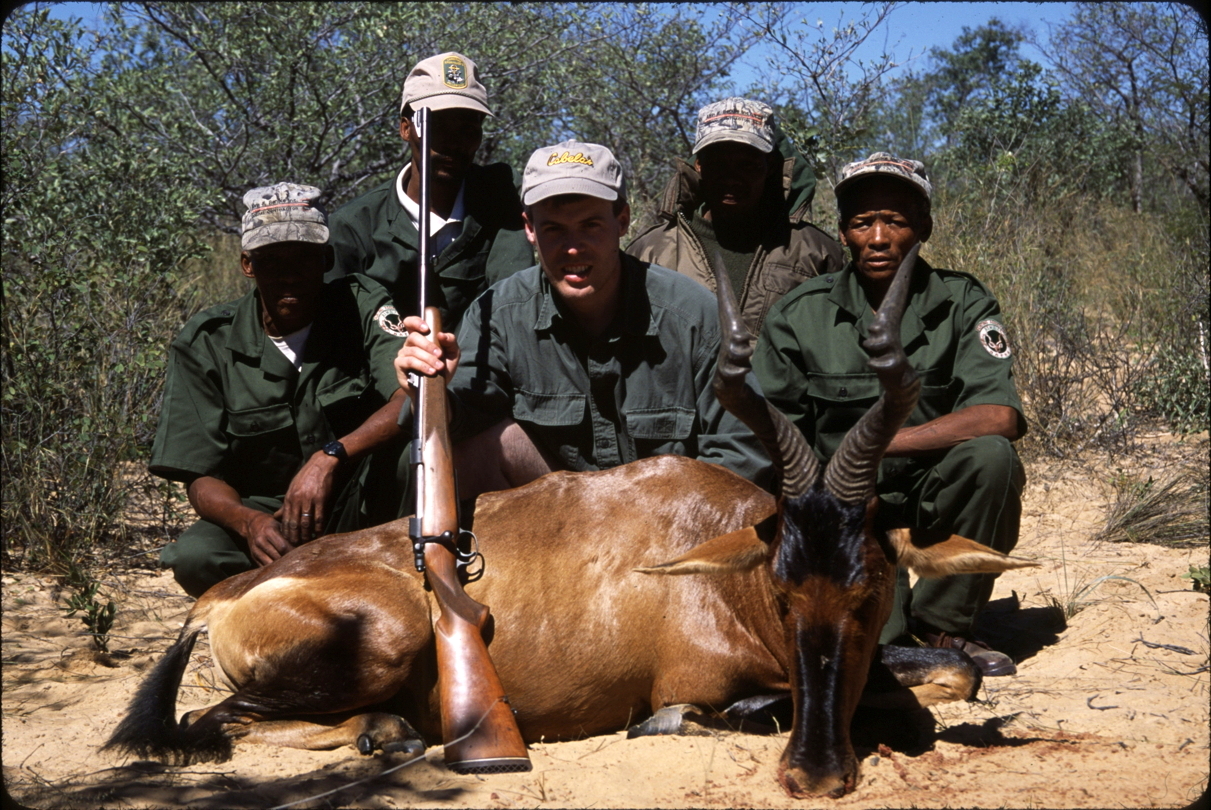 A Red Hartebeest - My First Trophy
After an unwise first shot at an awkward angle (I was trying to avoid shooting lengthwise from the rear hip and was too far outside on the thorax), followed by a long tracking job that culminated in a wild chase through the thorn bush led by two bushman elders, I was able to finish my hartebeest with a .375 Holland & Holland Magnum 270 grain Silvertip fired down through the spine and thorax. Without the incredible tracking skills of the bushmen (G!o and Old K!ao, seen on the extreme right and left) I would have lost this fine trophy and (which is infinitely worse) failed to finish a wounded animal. The rifle is a Brno (CZ) ZKK 602 owned by the PH.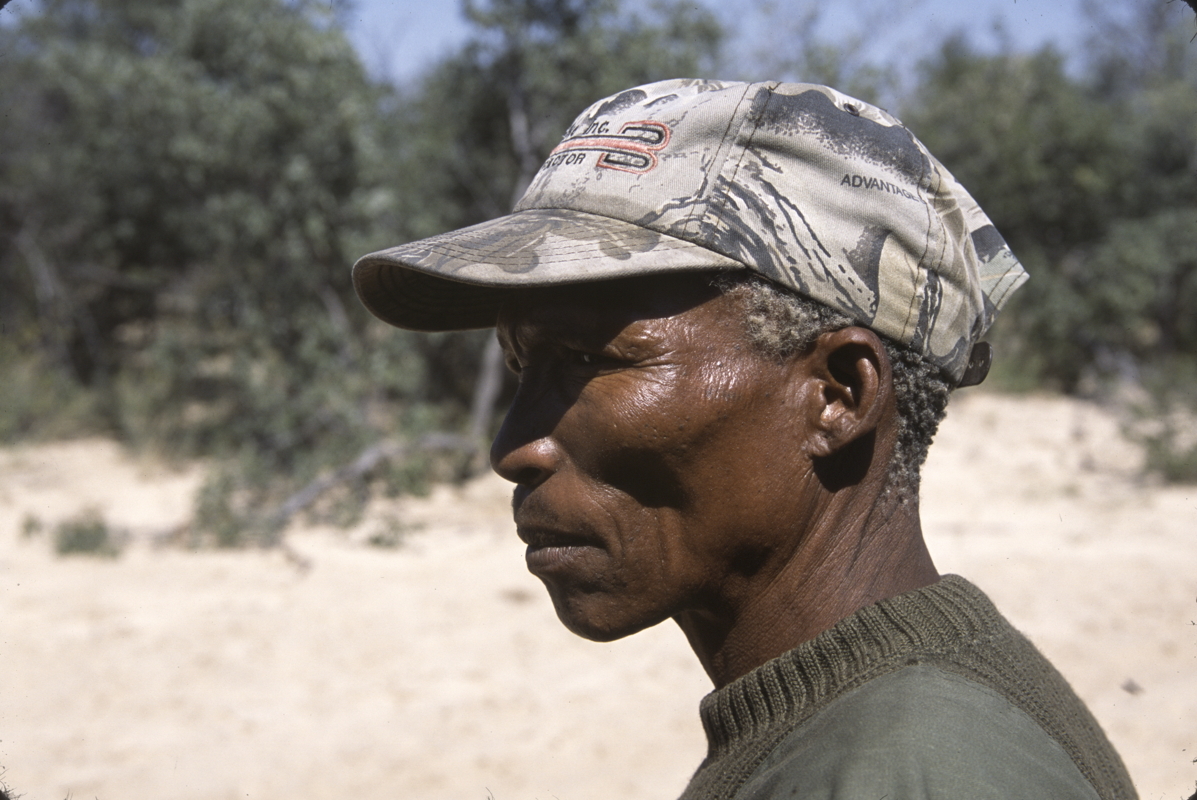 The Old Men: G!o and Old K!ao
These are the two old bushmen trackers. G!o, who is a bit camera shy, was the acknowledged master, but Old K!ao was also very good. These two, who are in their sixties, have more stamina than a triathlete. They can run all day tracking lions or elephant in the heat without pause and with little or no water. I found it hard to keep up with them when they ran after the hartebeest, following its tracks (without any blood trail) in a bewildering pattern of new and old tracks in the sand at a dead run. I never saw any of them drink anything, all day long for 10 days. Observe that they are wearing wool commando sweaters in the sultry heat. My brother and I would throw off our jackets as soon as we began to hunt and by midday the heat would be in the mid-70s F (low-to-mid-20s C) range - not really hot, but certainly not sweater weather. But this was autumn to the high desert bred San and it was brisk by their standards. They are shy people, but very communal in spirit; if they had anything they would share it with all, whether it was tobacco or a wild orange.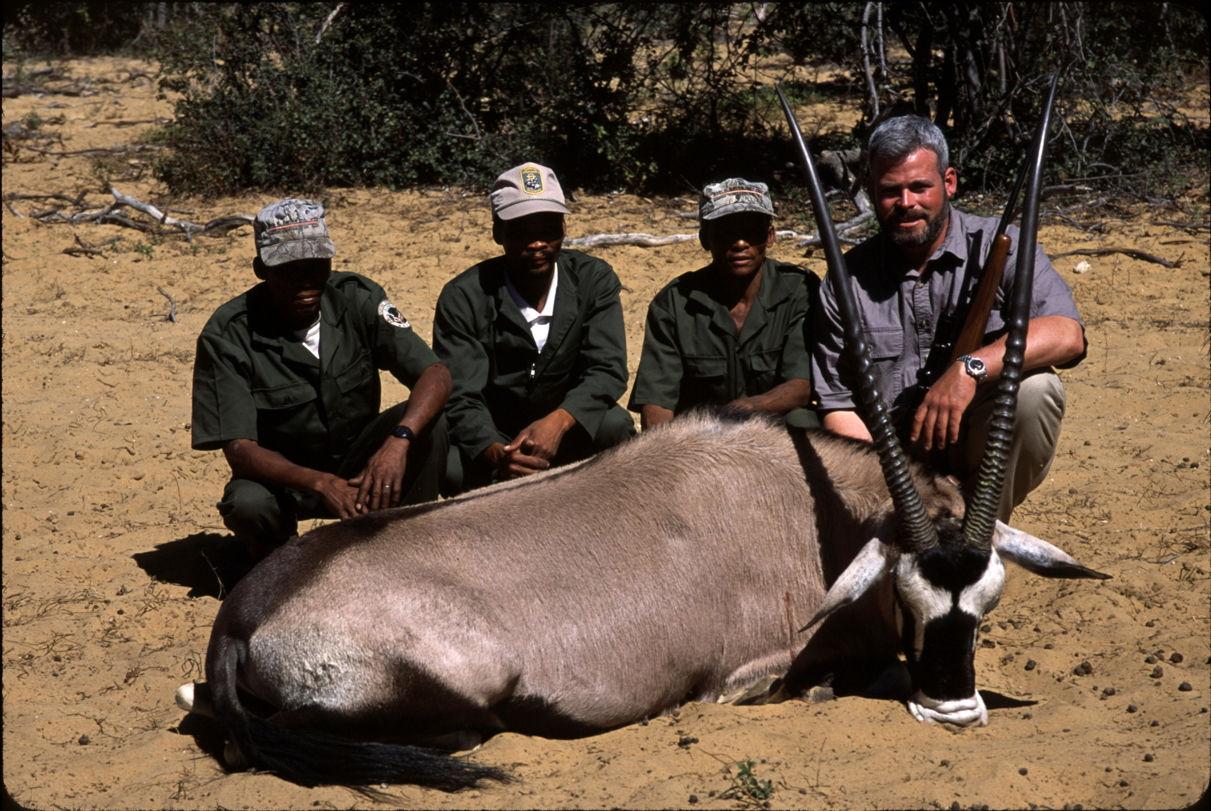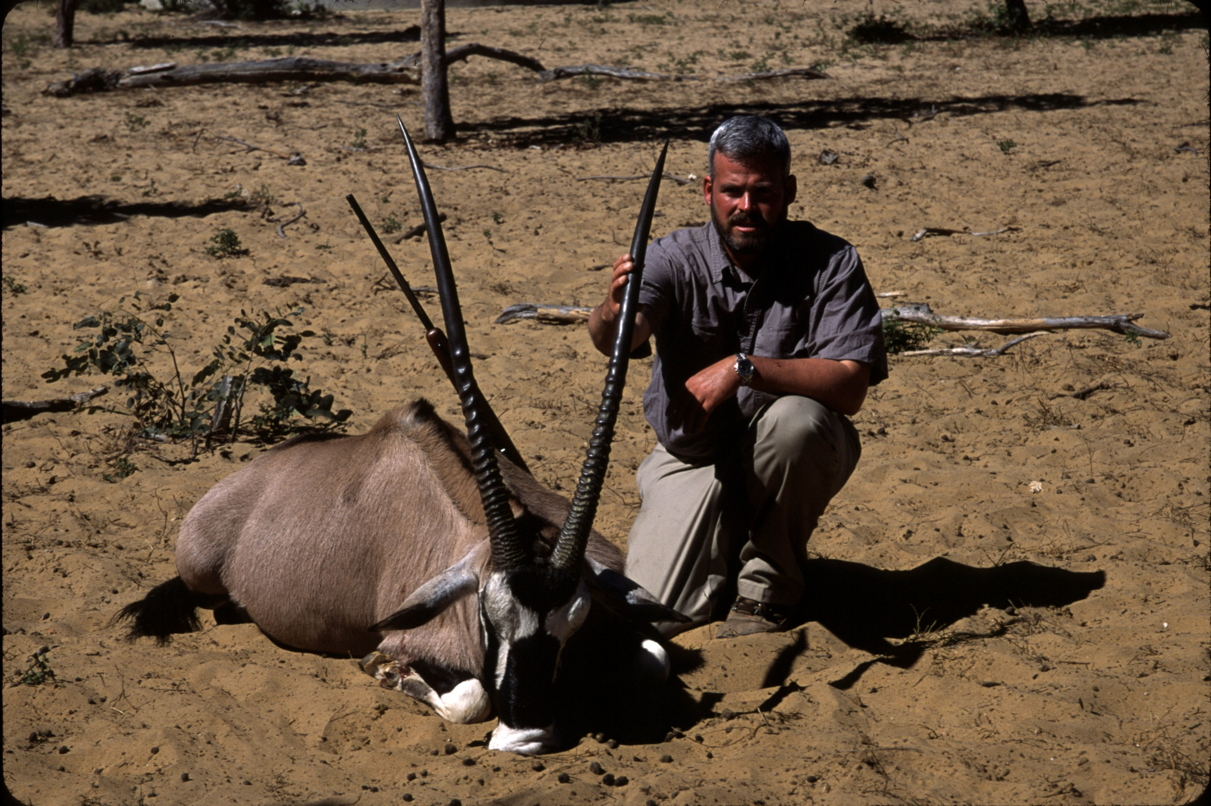 An Oryx or Gemsbok - My Brother's First Trophy
This bull has 37-1/2 inch horns that are exceptionally thick all the way to the tips. Felled in his tracks by a well placed 200 grain X-Bullet from a .300 Winchester Magnum, a Parker Hale Mauser rifle borrowed from our PH because our rifles were lost by the airlines for three days, this tough beast wouldn't give up the ghost until rendered a coup de grace. The San bushmen trackers pictured are: (l-r) Old Ka'o, Young K!ao, and G!o. The bushmen were agrieved over the heart shot because that is their favorite portion of the meat from the kill.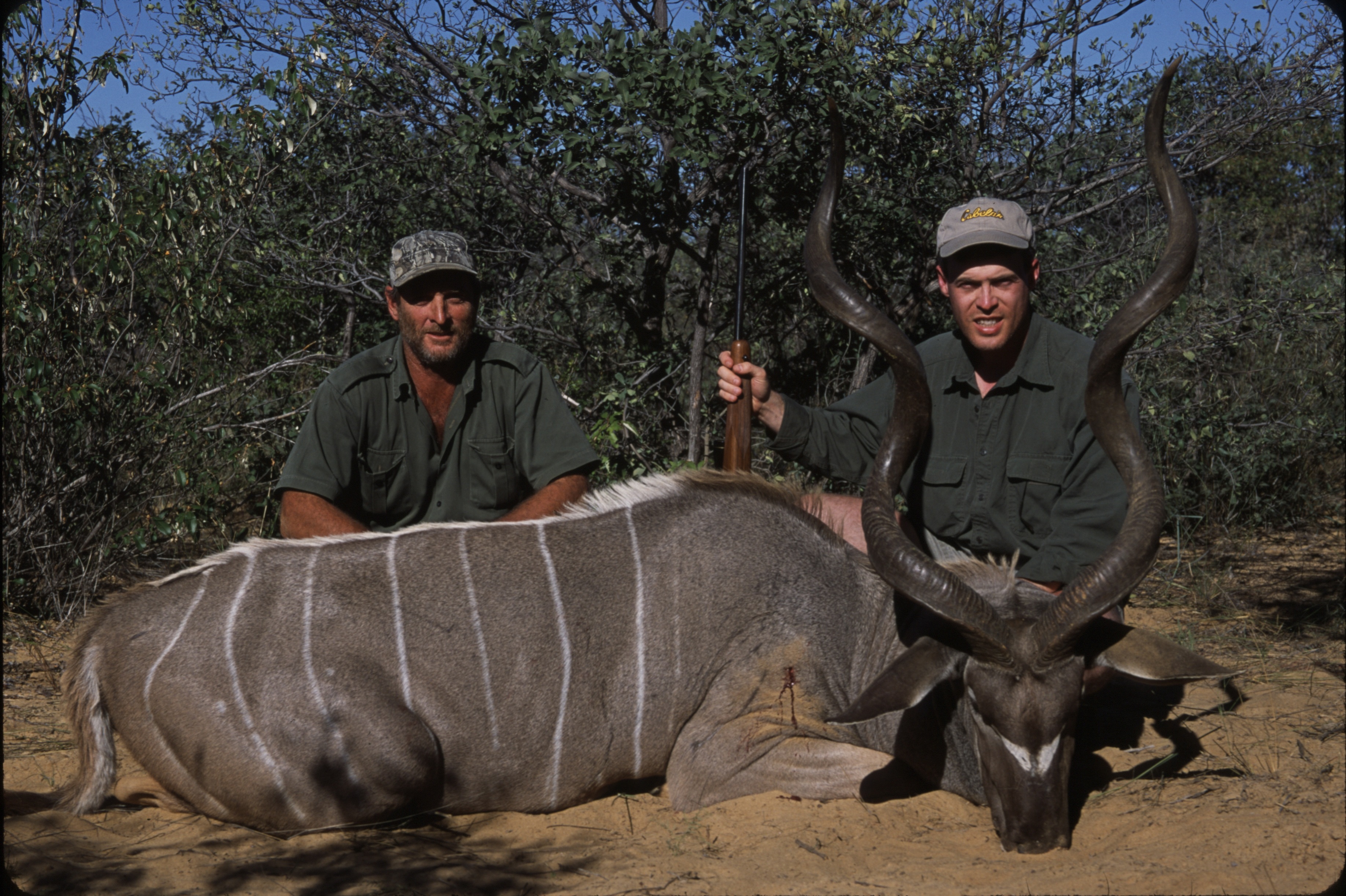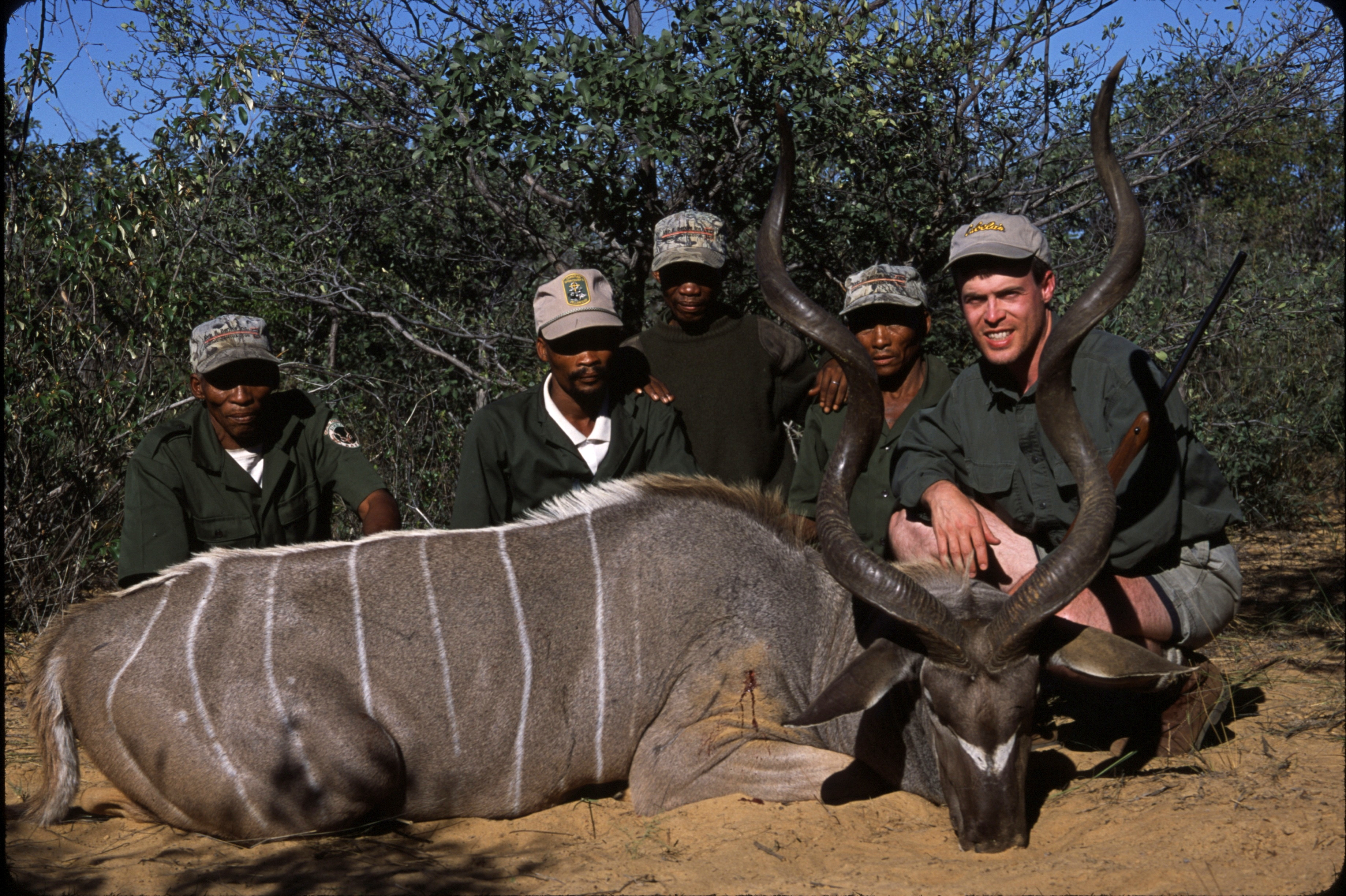 A Greater Kudu
This bull - my second trophy - unexpectedly emerged from the bush just forty or fifty yards away as we stalked another bull. Hit on the shoulder broadside with a .308-200 grain Barnes X, he ran about thirty yards (that is the exit wound - we only recovered one X-bullet all week and it went the full length of a warthog). His horns will measure about 55 inches. Our PH, Allan Cilliers, is in the top photo. On the bottom are the four bushmen trackers: (l-r) Old K!ao, Young K!ao, Tsissiba and G!o.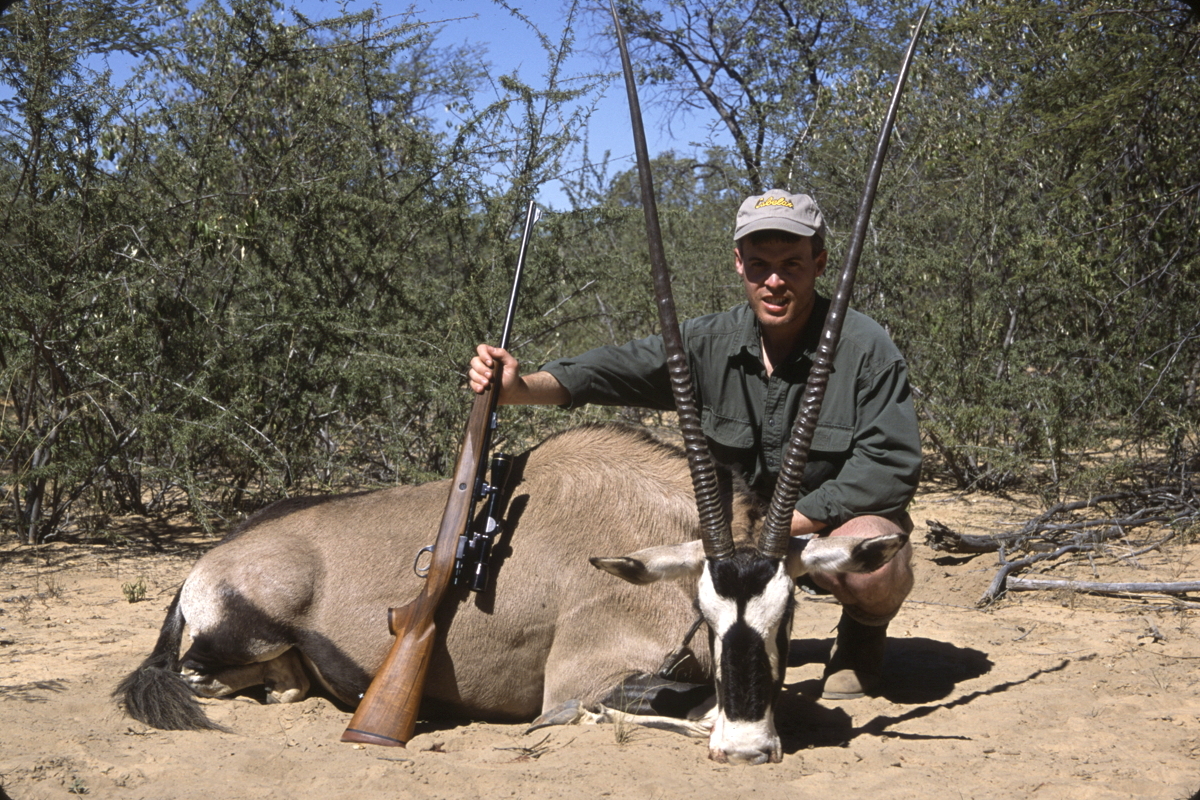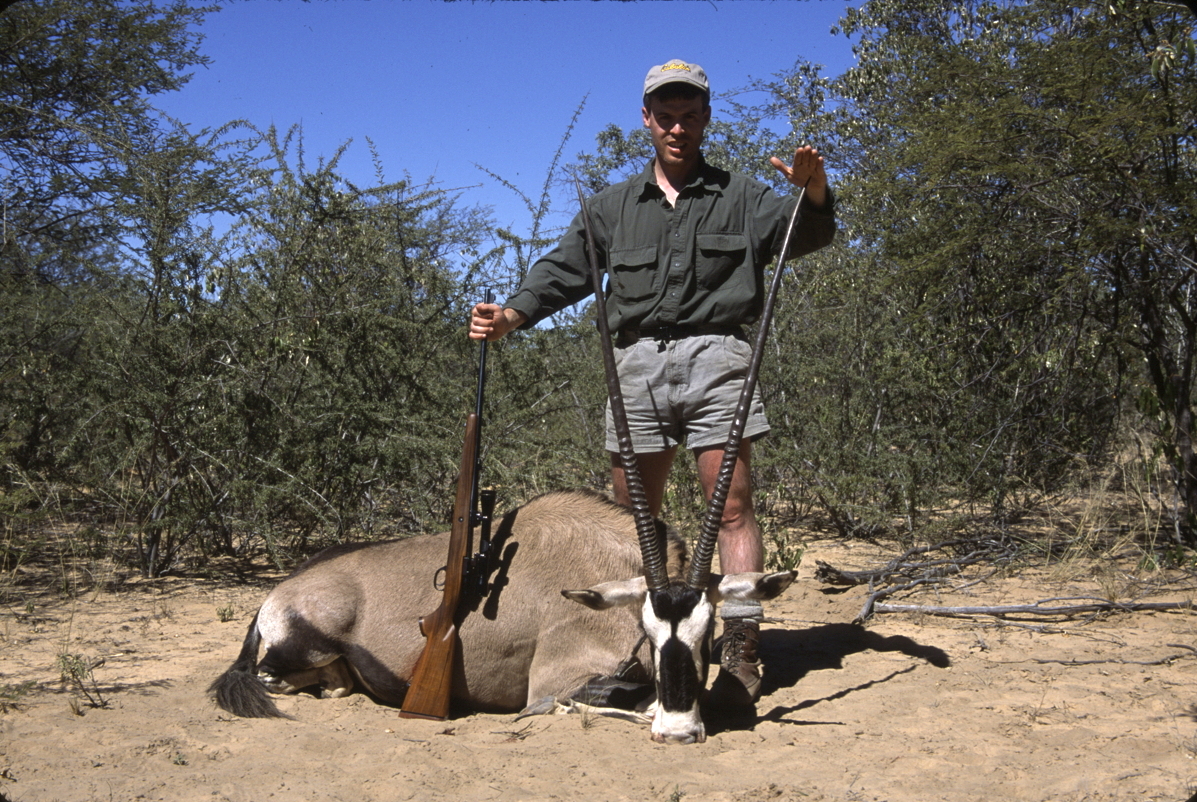 A Really Fine Gemsbok
I told Allan that I would take a female gemsbok if an exceptional trophy came our way and if it would help with the management efforts. The next morning while hunting a big kudu for my brother we happened on a large group of gemsbok at a water tank on a clearing. This record book quality trophy immediately stood out. Her needle sharp horns are just shy of 44 inches. Although the bullet traversed the entire chest cavity, entering behind the ribs and exiting in front of the opposite shoulder, the gemsbok bucked like a bronco when hit and bolted like lightning into the bush at least 150 yards before piling up dead, leaving a a trail of pink spray on the sand most of that distance. These are very tough animals.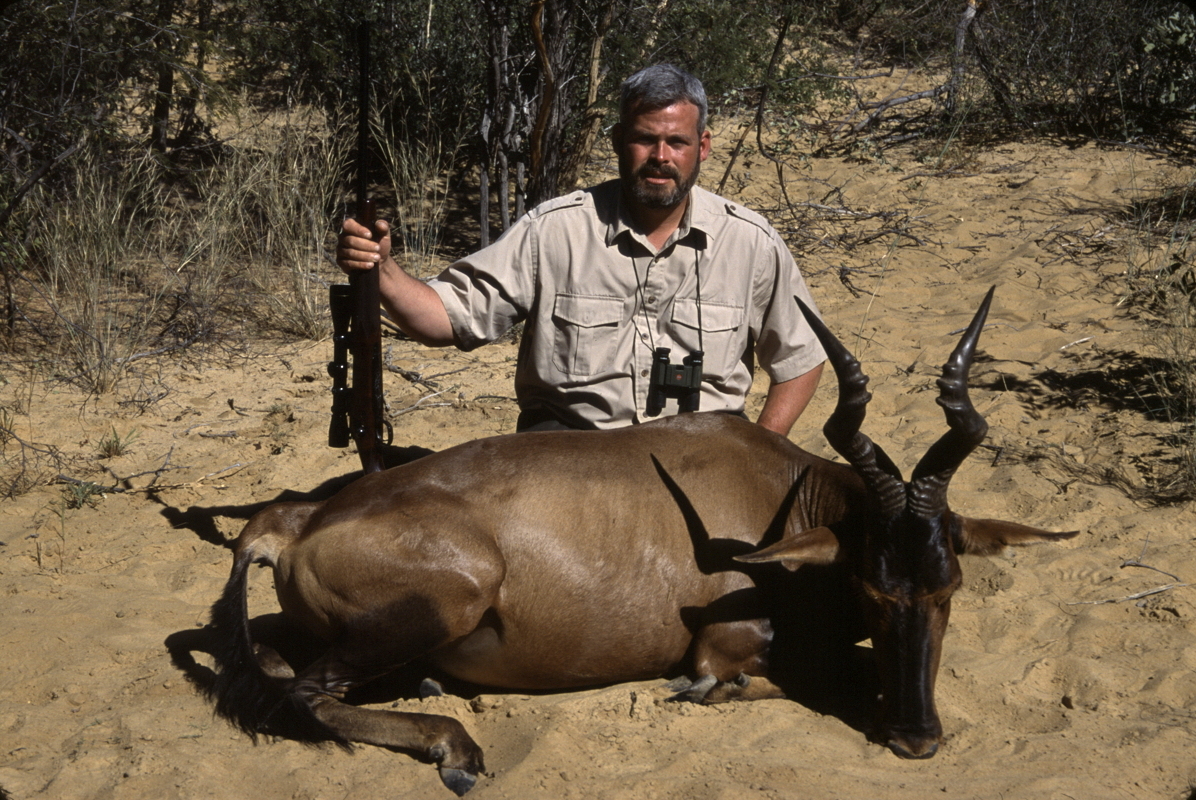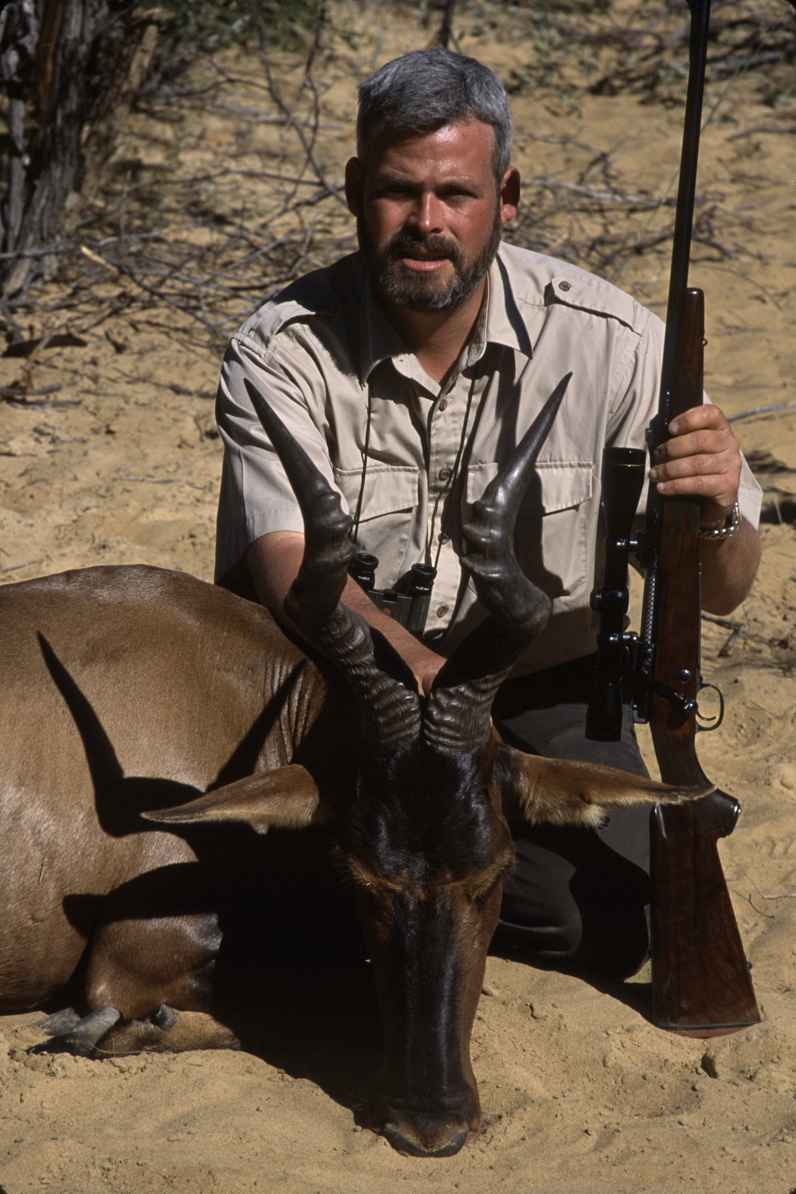 After a Long Stalk
This big bull red hartebeest fell to a single shot from my brother's Winchester Super Grade Model 70 Limited Edition .300 Win Mag using 200 gr Barnes X-Bullets. We stealthily pursued this bull and his harem of cows through the thick thorn scrub for about two hours or so, led by by the bushmen trackers. Finally, Steve had to crawl on his belly out into the open to get a clear shot at the bull, which was obscured by cover and surrounded by his coterie of females. Look at the hooks on that boy!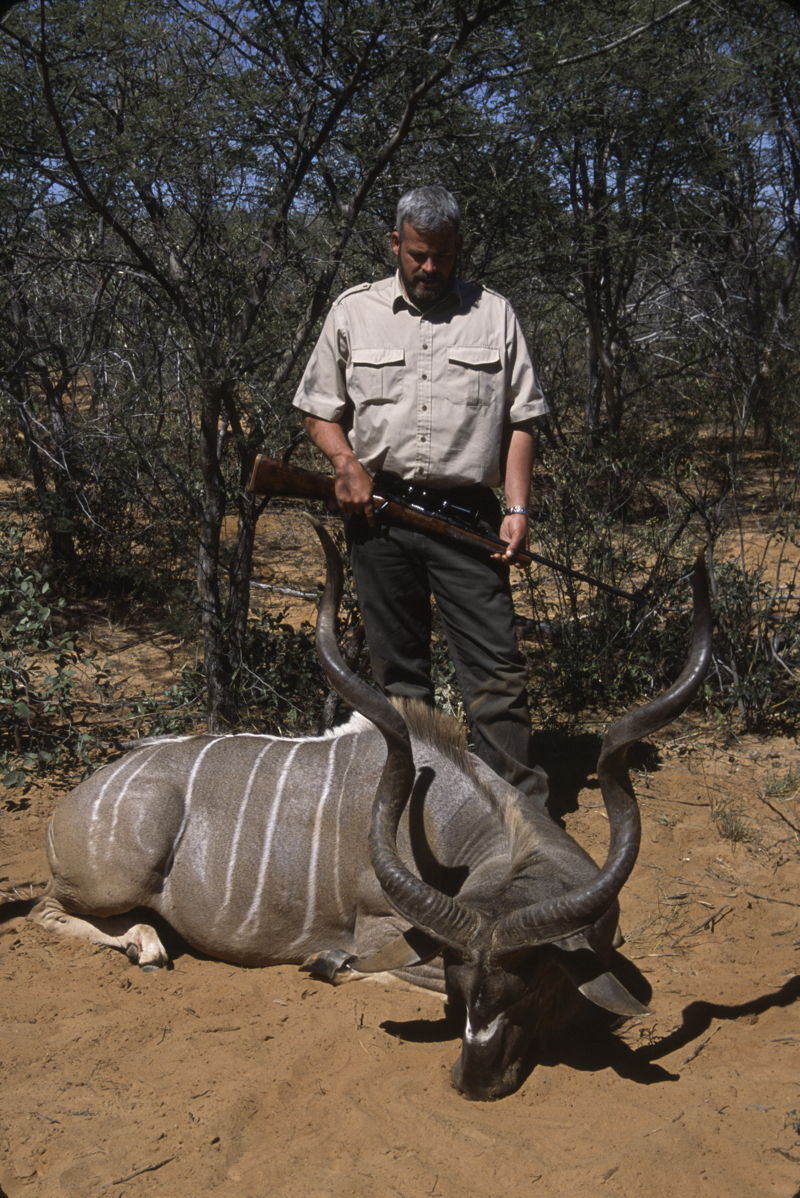 Steve's Monster Kudu
We stumbled on this bruiser on our way back to camp for lunch, after three days of exhausting hunting for a big bull. He hung around, thinking he was hidden in the thorn bush (mainly because his wing man with a swollen shut eye couldn't see us and didn't run) and Steve was able to slip into position without spooking him. The bull collapsed to the shot (which went high on the shoulder), but he was so tough that he had to be finished with a bullet to the heart. Those horns, measuring over 52 inches, are bigger in girth than my forearm and incredibly heavy. Steve calls the photo on the bottom his "Boddington" pose because its like a magazine picture.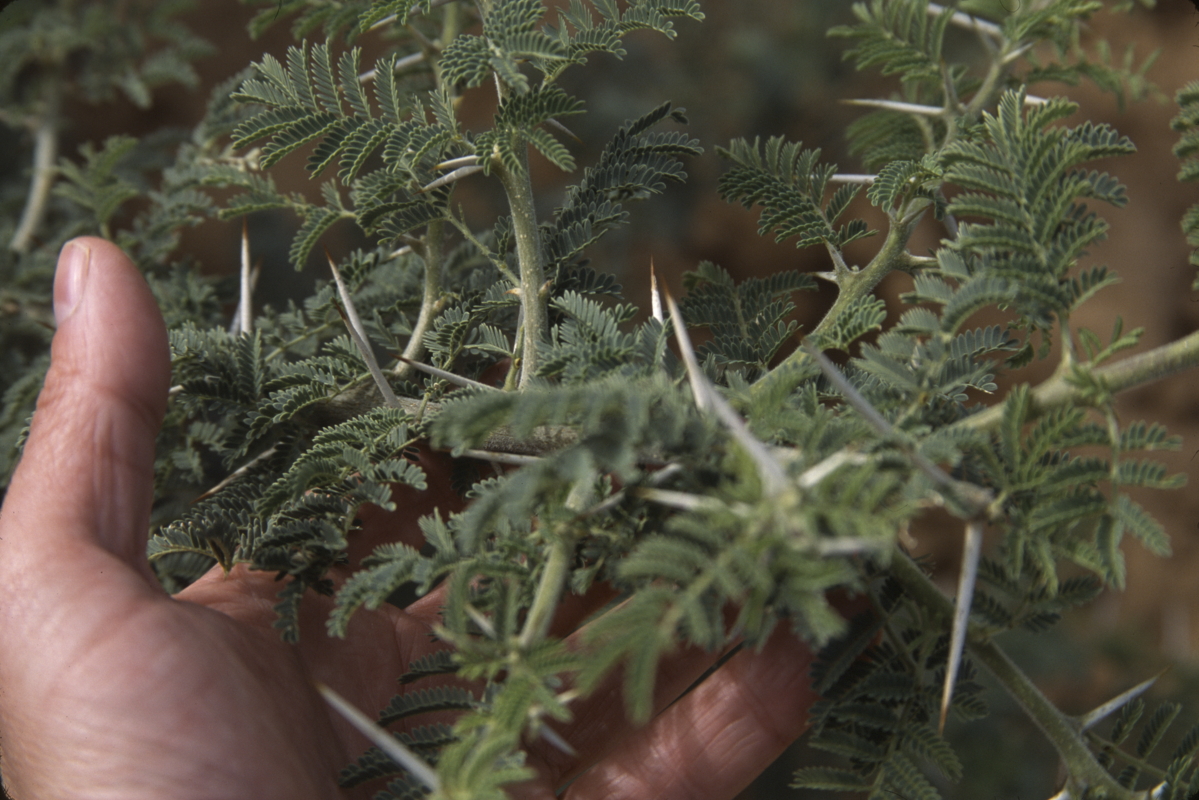 Thorns
Nearly every tree and bush bristled with thorns. As ferocious as these appear, the worst by far were the shortest thorns of the "rose bush", which were curved like talons and would snag your clothing or sink into your flesh with the lightest contact.
Break Time at the Truck
Here we are gathered around the Land Cruiser on a chilly morning near the end of our safari, Allan with his pipe and my brother with a mug of hot coffee. G!o, ever alert, surveys the opening for game.
This web page was designed by HTL Ulfhere@Rathcoombe.net
Copyright 2001 - 2013 -- All Rights Reserved